Just witnessed your best live gig?..send us a review!
FIREFEST
Day 2: 27 October, Nottingham Rock City
The larger main hall of Rock City is the venue for day 2 of Firefest, and it is apparently sold out - which can only be good news for both the organisers and all fans of the melodic rock genre. Unfortunately, an incident on the main road into Nottingham has resulted in a section being cordoned off by the police and a diversion round the back streets means that I arrive just as the first band, Jaded Heart, have finished.
Crunch, formerly known as Adriangale, take to the stage a short while later and this New York outfit deliver a solid set of classy hard rock tunes. Some good riffs get the crowd nicely into the swing of things for the day. I'm not particularly knowledgeable about their music, but apparently they were airing a number of new tunes as well as some of the old Adriangale numbers. All sounded very good and that band (especially Jamie Rowe on vocals) put 110% effort throughout. Worth further investigation on the merit of this performance, without a doubt.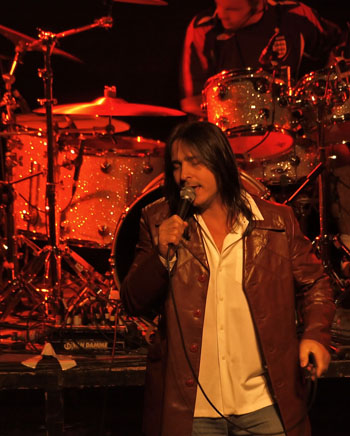 Valentine, photo: Ian Pollard
The next band, Valentine, I know virtually nothing about - other than the solo album by vocalist Hugo Valenti, a couple of tracks off which were feature in the set. To be honest, they appeared to be very derivative of Journey in both appearance and sound, and I didn't really find anything to set them apart from the rest of American AOR field. Clearly though, those that were familiar with their music were enjoying every minute of it, and the whole band put in a polished performance from start to finish.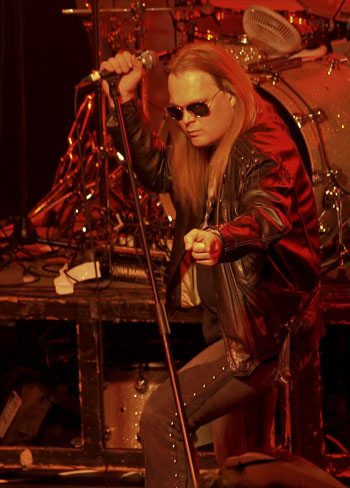 Jorn Lande, photo: Ian Pollard
Back onto more familiar ground for me next as the Norwegian vocal powerhouse Jorn Lande proceeds to rock Nottingham in a big way. It seems virtually impossible that it is 8 years since he last performed in the UK with his own band (following an extended tour of duty with Masterplan).
The set is full of powerful songs culled from his extensive solo output over the years, but the highlights undoubtedly come at the end with Jorn harking back to his days playing with Bernie Marsden and Mickey Moody in The Snakes. Covers of Whitesnake's 'Come On' and 'Sweet Talker' are followed by a fantastic rendition of 'Stormbringer' - giving credence to the claim on the Firefest website that he is 'one of the greatest singers on the face of the planet'. No arguments from here on that front.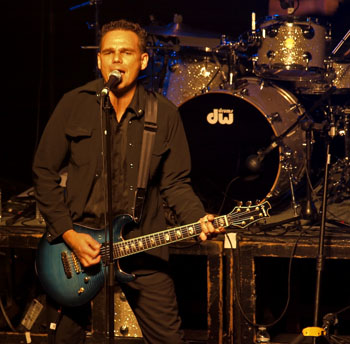 Harry Hess, Harem Scarem, photo: Ian Pollard
The second farewell of the weekend follows, with Canadians Harem Scarem playing their last gig together. Another band I haven't followed closely over the years, but clearly their presence here has helped to sell out the festival (their acclaimed performance at FF2 probably helped too).
Guitarist Pete Lesperance managed to blow an amplifier at one point, so there was an enforced, short, adlib by Harry Hess while a replacement was found and installed. Aside from that the set went smoothly with many of the songs coming from the internationally well received 'Human Nature' album - not that any era of their almost 20 year career was neglected.
The crowd were ever appreciative of the band, and clearly saddened by the prospect of their demise. Hopefully the individuals involved will continue to be involved in the AOR scene in the future.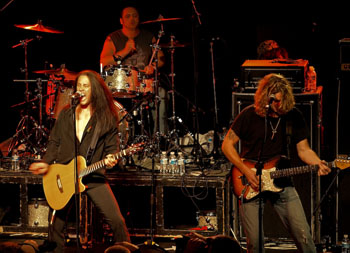 Tyketto, photo: Ian Pollard
Another last - the last ever performance in the UK by Tyketto. With fans' appetites whetted by a series of front man Danny Vaughan solo band concerts over the summer (including an acoustic support slot for Journey), where a few Tyketto gems were included in the set list, the prospect of a full blown Tyketto show was exciting, to say the least.
They did not disappoint with a brilliant set and total commitment to entertain. Superb musicianship abounds in this band and it is a shame they will go their separate ways again soon. 'Strength In Numbers' and 'Standing Alone' were the main set highlights, but nothing in the entire weekend could compare to hearing 'Forever Young' sung by almost everyone present. That was one of those moments that keep people going to gigs forever. Farewell Tyketto, you will be missed on these shores.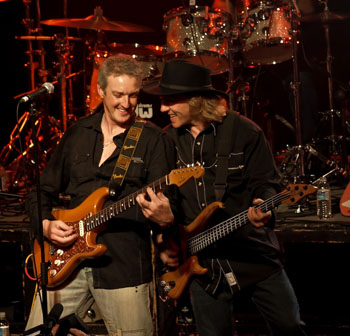 FM, photo: Ian Pollard
Finally, the long awaited re-emergence of one of Britain's (mostly) hidden AOR gems. I first encountered FM in the mid-80s when they supported Magnum on tour, and was blown away by their performance then - specifically Steve Overland's vocal. Back now with a more reasonable (i.e. non-80s) hairstyle, and old partners Pete Jupp, Andy Barnett, Mervyn Goldsworthy and Jem Davis, FM carry on where they left off, delivering melodic rock of the highest quality in an assured and professional manner. Even a temporary power failure in the middle of the set couldn't knock them out of their stride - not bad for a band that hasn't played together for so long.
'Only the Strong Survive' was the obvious highlight, but their rocked up cover of 'Heard It Through the Grapevine' was very well received too. Hopefully this is the start of something more permanent, and a nice way to end the festival on a hugely positive note following all the farewells.
That's it for another year, and the credit has to go where it's due for the success of this festival - Bruce Mee and the rest of the Fireworks team please take a bow. You managed to pull together an exceptionally interesting line-up for 2 days and pull it off despite the occasional technical hitch. Following that in 2008 is going to be a challenge, but one I am sure the team are equal to.
Review and photos by Ian Pollard
Firefest Gallery 2


---
| | |
| --- | --- |
| | Print this page in printer-friendly format |
| | Tell a friend about this page |