EPICA The Divine Conspiracy Nuclear Blast (2007)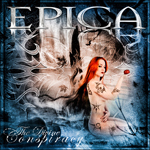 The interesting and quite successful alliance between the US Symphonic Metallers Kamelot and their Dutch colleagues Epica was first forged long before I decided to write this review, but this alliance has proven to be really important seeing as it was through a product of this very collaboration that I was introduced to the angelic voice of Epica's mezzo-soprano frontwoman Simone Simons.
Her vocal performance in the now classic Kamelot composition "The Haunting (Somewhere In Time)" will be remembered as one of the most impressive ever recorded by a female singer in a metal album and was indeed what generated my interest towards her personal musical exploits. The opportunity to become better acquainted with her role as the frontwoman of Epica appeared the moment I received the promo of the band's latest effort "The Divine Conspiracy" and I took complete advantage of it.
The band's connection with the music of Kamelot is not simply based on the strength of their name (Epica was the title of Kamelot's sixth studio album) or Simone's contribution to the recordings of "The Black Halo", but on their similar approach to musical composition.
Just as with Khan's outfit, the foundations of Epica's compositions are based on massive rhythmical riffs which play more of a supportive role to Simone's brilliant vocals and the numerous orchestral arrangements that feature a variety of classic instruments such as violas, double bass, cellos and violins.
As a result, these eleven compositions convey an epic pompous feeling that will often resemble those of epic movies like Conan The Barbarian, while allowing much more space for experimentation than one would normally expect.
After a very short epic orchestral intro, the album kicks off with "The Obsessive Devotion" and "Menace Of Vanity" - both based on simple keyboard and choral melodies influenced by the music of Therion and Kamelot.
Any fears towards this being an average symphonic metal release will disappear as soon as the very first note of "Chasing The Dragon" fill your room. This acoustic ballad, which sounds like a medieval fairytale, features not only one of Simone's strongest vocal performances of the album but also some really interesting Death Metal growls terribly reminiscent of those which you should normally expect to find on a Haggard album.
Compositions like "Never Enough" and "Living A Lie - The Embrace That Smothers" will almost certainly become the album's hits, being pretty straight forward and melodic, yet I believe that the real essence of Epica's music is audible in the more daring and experimental songs. It is amazing to hear how this band manage to incorporate so many different elements in their music, successfully combining classical and oriental musical forms in both "La'Fetach Chatat Rovetz - The Last Embrace" and "Fools Of Damnation - "The Embrace That Smothers Part IX" - with the latter also including a very technical section that even the progressive giants Dream Theater would approve of.
The same-titled closing opus "The Divine Conspiracy" is very impressive, being based on a similarly challenging musical structure, yet I once again found myself mesmerised by the beautiful vocal and piano melodies of "Safeguard To Paradise" - an atmospheric ballad which not many female vocalists would manage to perform as passionately and convincingly as Simone.
If I were to judge this album based on Simone's vocal performances, I would have no hesitation in granting it the ultimate score. Unfortunately, though, not all of the compositions that are featured in this release can be considered amongst the most innovative of the genre and with that in mind, I will have to wait for at least another album before I decide to name Epica as the best next thing in Symphonic Metal. Having said that, I believe that Nightwish should really get their act together because there is a strong competitor here, waiting to steal their crown.
****
Review by John Stefanis

---
| | |
| --- | --- |
| | Print this page in printer-friendly format |
| | Tell a friend about this page |