FAST EDDIE CLARKE Anthology 2-CD, Sanctuary (2007)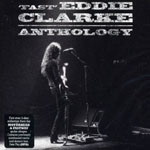 Fast Eddie will forever be known for his tenure with Motorhead, nothing wrong with that, but outside of the band Clarke has produced some damn fine material.
Fastway are well documented if underrated, and some examples included here, but the pre Motorhead material is worth checking out too.
Disc 1 opens with two tracks from Curtis Knight Zeus, soulful and bluesy and a hint of Hendrix (Knight had previously worked with Hendrix), two rare and very enjoyable tracks in 'Cloud' and 'The Confession'.
More uptempo but equally even more soulful are two tracks from 'Continuous Performance'. Good but not essential.
The rest of disc 1 is 11 tracks from Motorhead, kicking off with 'White Line Fever'. What else is there to say about Motorhead? If you don't have 'Overkill', 'Bomber' 'Ace Of Spades' and 'Iron Fist' in your collection or are not familiar with them, you don't deserve to be let out to read these pages.
No metal is more classic or more anthemic, or so rough. A nice touch is the inclusion of 'Emergency', the Girlschool track Motorhead covered for the hit EP. Trivia fans note it features drummer Denise Dufort, with Filthy Phil incapacitated with broken neck.
Disc 2 opens with 8 Fastway tracks, some featuring the excellent Dave King on vocals. Worth checking out are the 3 demos featuring UFO's Pete Way, with whom Clarke formed the band before the formed immediately left to form Waysted. Classic mid to late 80s British hard rock that's too often over looked.
The disc continues with some solo material, a track from Black Electric and 2 more Motorhead material.
There will ever be the reliance on the Motorhead legacy, and a fine legacy it is too, bit don't detract from Clarke's other output. And sleevenotes from Motorheadbangers' Alan Burridge are a breath of fresh air compared to the usual classic rock self serving dirge.
An excellent package, excellent rock'n'roll.
****
Review by Joe Geesin
---
| | |
| --- | --- |
| | Print this page in printer-friendly format |
| | Tell a friend about this page |