Cross-legged in crushed velvet...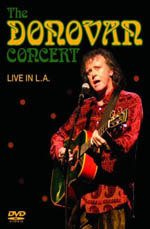 Blissed out in La-La Land, the Hurdy Gurdy Man has been practicing transcendental meditation since visiting the Maharishi Mahesh Yogi in India in 1968 with The Beatles.
In this US PBS TV special he hooks up with maverick film director David Lynch, who when not making his strange and often unsettling films is on a mission to bring TM into the classroom.
PBS dumped the meditating bit so we get a Donovan concert, filmed at the Kodak Theatre (home to the Academy Awards) in Hollywood with an introduction by Lynch. A droll, engagingly-egotistical talent, Donovan packs a fabulous repertoire that stands up well against today's folk genres.
OK, some of its a a little pop-hokey but a good-natured, happy (what else?) packed-house clearly enjoy this three-piece acoustic run through greatest hits including "Season of the Witch," "Hurdy Gurdy Man," "Sunshine Superman," "Happiness Runs," and "Universal Soldier".
He looks in good shape. Cross-legged on the stage floor, a crushed velvet counterpoint to his chic black-garbed audience, Donovan resembles and sounds like Bolan as he monologues between songs about the past (travels with Gypsy Dave, dear old George and Paul etc) to a back-drop of archive clips, the evening finale a sing-a-long of "Mellow Yellow" featuring the artist's daughter, Astrella Celeste and a faintly bemused Mike Love. Strangely, this is the first ever Donovan DVD. He should do more.
***
Review by Peter Muir