Purple guitarist's other job...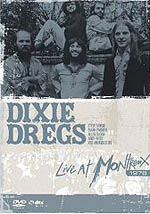 The Montreux series continues, and while most will know Dixie Dregs for guitarist Steve Morse (currently in Deep Purple), they produced some decent hard rock and this show, recorded in 1978, shows their jazz fusion roots.
While Morse shows his guitar skills, proving why he's so widely revered, the sound is a whole band thing, the instrumental guitar/bass/drums/keyboards/violin nods at Jeff Beck, King Crimson and many others.
Many excellent sounds come out of 'Freefall' and 'Country House Shuffle', but the highlight is the superb 'Take It Off The Top', which for a while was used as the theme to Radio 1's Friday Rock Show. Fans of a certain age will recognise this for sure.
Given the small stage and complete lack of interaction with the crowd, the band are as dynamic as they can be and thoroughly enjoyable.
A couple of bonuses, including a band interview, make a nice package but the total running time of about an hour make for less value than some sets I've seen.
Any fan in guitar work will appreciate the show though.
***½
Review by Joe Geesin