Blue-eyed soul in a brown-paper bag...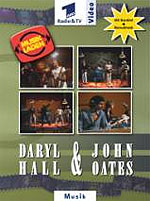 In the mood for a bit of 'ard core? There was a time (and perhaps still is) when bringing a Hall & Oates release home required sneaking it in under the cover of darkness in a plain brown paper bag.
Thankfully this Musik Laden (German TV) release takes us back to a time when the duo were distinctly 'cool'. To 1976 when they were toring with material from their two great breakthrough albums - Abandoned Luncheonette (1973) and Daryl Hall & John Oates (1975) - the one with the silver cover.
A 50 minute DVD recorded live in the studio - Old Grey Whistle Test style - with Steven Dees (bass), David Kent (keyboards), Todd Sharpe (guitar) and Ed Zyne provides a polished workout through 9 tracks including the exquisite Sara Smile and I'm Just a Kid (Don't Make Me Feel Like A Man). The others are lifted in the main off the two aforementioned albums.
It's typical mid-1970's fare - a straight ahead performance with no frills, just six musicians giving it some stick with Hall & Oates demonstrating their Philly/rock vocal prowess. Good stuff.
***½
Review by Pete Whalley