CORONATUS Lux Noctis Massacre Records (2007)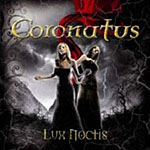 This German gothic metal band are totally unique; a professional sound, decent songs, and 2 female lead vocalists.
The CD opens with some Latin vocals, almost chanting, before the rock kicks in. There are immediate similarities with Freedom Call, Mob Rules and Rhapsody, but what stops it becoming as operatic as it could (or perhaps should) be, is that both women have a strong air of Kate Bush! So you lose one edge and gain another. Nice effect with one singing low, the other high, before coming together then apart again. Duelling.
'Silberlicht' (yes the lyrics mix German and English) is a fine power metal with a very catchy chorus.
The keyboards and guitar mix well, the drums add hints of machine guns in the power metal, and 'Dunkle Blume' does remind me of 'Wuthering Heights'.
There is the odd acoustic atmospheric moment, and some good gothic and power metal moments.
Different but really worth checking out.
One problem, and Massacre really should take note. 'You are listening to a promotional CD which is the property of Massacre Records' is a phrase that, when repeated throughout the CD, can really turn off a reviewer; a lesser CD would be in the bin without review!
****
Review by Joe Geesin
---
| | |
| --- | --- |
| | Print this page in printer-friendly format |
| | Tell a friend about this page |