CONSORTIUM PROJECT IV Children Of Tomorrow Metal Heaven (2007)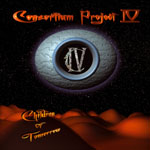 The fourth album in the Consortium concept, continuing the complex story of mankind's self destruction and environmental disaster.
Set in the future, with all Earth's history erased, 12 stone tablets are discovered, translated and proved to be of Biblical origin. And with the utter depletion of oil supplies only a few years away experiments into new weapons and power sources lead to further global warming, and the collapse of economies etc. Cue protests from public and scientists alike, mass starvation and etc etc etc – I could go on. The press release is a lot longer than most, but song titles of 'A Sign Of The Times', 'Nowhere Fast', 'Exodus', 'Let The Wind Carry You Home' and 'Enigma' all tell their part. 'Path Of Destruction' could be relevant even now.
With a concept going this far (complexity and the 4th album) it could only be prog. Behind Ian Parry's lead and harmony vocals you get a seven piece band, including female choirs.
With touches of War Of The Worlds, the music is prog metal with melodic rock combined, nicely layered, the intricate keyboards and atmospheric strings adding to a full and varied sound.
You can't just casually listen, you do get the desire / need to sit down and unravel the story.
Good stuff.
****
Review by Joe Geesin
Path of Destruction
© 2007 Metal Heaven. All rights reserved.
---
| | |
| --- | --- |
| | Print this page in printer-friendly format |
| | Tell a friend about this page |