CHUNGKING Stay Up Forever Institute INSRECCD01 (2007)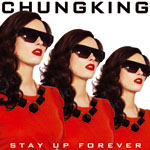 Chungking are one of those annoyingly clever outfits who from the front cover onwards appear in danger of becoming a triumph of style over content, and then surprise you by unveiling a handful of well crafted, incredibly catchy pop songs. And while the 12 songs on'Stay up Forever' can't quite sustain the same creative levels of the opening track'Ticking', at least half of the album delivers in a way that suggest Chungking would be happiest as a singles band.
Chungking are the latest creative band to come out of a rich Brighton musical scene, except that they do have some previous, having already generated a lot of interest with their debut album'The Hungry Years' a couple of years back. Chungking are in fact a duo comprising Jesse Banks on vocals and Sean Hennessy presumably on keys and associated instruments. More significant is the fact that the two are an intuitive song writing team who conjure up some impressive moments of hook laden poppy magic with a number of occasional emotive vocal lines and glossy production moments
'Stay up Forever' is in fact like an up market magazine full of glossy photos and loud headlines, but then when you get down to the detail you will be surprised to find something more enduring. The album opens with very catchy'Ticking' which features an impressive vocal line over a strong melody and a great hook. The same formula is used on'Itch & Scratch' the first of two album highlights. Superbly produced with deft use of double tracked vocals, and snappy rhythms and insistent keyboards, this track alone is surely destined for extended radio play.
Chungking may occasionally deal in disposable dance friendly pop but there's some well thought out arrangements here, and well produced snapshots topped by the sensual voice of Jessie Banks and the judicious keyboards of Sean Hennessy.
But having hit the heights on two out of the first three tracks the albums dips slightly on the trite lyrics of'Stay Up For Forever' and dips even further on a gruesome pastiche of the ELO meets Abba on the overproduced'Baby'.
But then just as you are losing interest, the duo hit you with a few more gems to re-address the balance with the 10cc style glossy production on the dreamy'I Love You' which features a sensual close to the mic swooning vocal that somehow manages to disguise a rather limp chorus. The stripped down production of'Slow It Down' also impresses, albeit with some very 80's sounding keyboard effects, while the piano led ballad'Beautiful Inside' provides the second major album highlight. The combination of voice, piano and bv's strike a perfect balance that is repeated on the closing'Maybe It's Over'.
And these two songs alone surely offer enough evidence to suggest that Chungking will surely become a staple on countless late night radio slots.
In sum, Chungking offer nothing particular new, but rather have that priceless ability to conjure up slices of classy pop that will trigger enough memory recall buttons to lead to some substantial air play and plenty of sales.
***½
Review by Pete Feenstra
---
| | |
| --- | --- |
| | Print this page in printer-friendly format |
| | Tell a friend about this page |