CHRIS DUARTE GROUP Blue Velocity Provogue PRD 7229 2 (2007)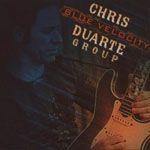 It was Michael Katon who first popularised the phrase 'Rip It Hard', and it's the perfect adjective for the Chris Duarte Group who power their way through a high octane set.
It's 13 years since Austin guitarist Chris Duarte took on the Steve Ray Vaughan mantle with his debut album 'Texas Sugar, Start Magic', and in that time Chris has shifted from being a sideman, and cult guitarist in his native Texas, to becoming a band leader in his own right who has gradually built up his reputation in Europe. During the intervening years he has looked like making a significant breakthrough but perhaps partly because of shifting contemporary tastes, this post SRV guitar slinger has remained just on the cusp of something bigger.
Now comes 'Blue Velocity' an album that might more accurately have been titled 'High Velocity', as Chris rocks out for the opening few bars right through a guitar showcase that takes in hard rocking blues, straight blues, and rock and roll. He sets out his stall on the razor sharp 'Amy Lee', on which he explores every part of his fret board while enjoying an eloquent conversation with the blues. On 'Do It Again', Chris revisits an early career Johnny Winter style through some trademark vocal growls and incendiary guitar lines that Johnny would surely approve of.
And by the third track - the impossibly tight shuffle 'Hard Mind'- Chris has already played some of the best licks of his career. On 'Hard Mind' he leans into the song and returns for lashing of straight to the vein guitar phrases, and as the eloquence of his playing on 'Blue Velocity' unfolds you realise you are listening to a guitar master class.
And it's a point worth emphasizing as Chris doesn't have the most significant vocal style, but cleverly uses all eleven tracks to coax very possible tone and nuance from his Strat. Whether playing long sinewy lines on the slow blues 'Something Wicked', or through adding a big tone and lots of reverb on the Robin Trower influenced 'Sun Prairie Blues' – a style he classily repeats on the subtly constructed solo's of 'R U Real' – Chris leaves no stone unturned. On the mighty ZZ Top influenced 'Out in the Rain, he dredged up a guitar avalanche over a rock solid groove, another example of how 'Blue Velocity' is really all about finding new ways to showcase his visceral guitar style.
Where Johnny Winter used to bludgeon you with fast repeated guitar lines and SRV used to mesmerise with a mix of startling technique, full use of dynamics and on stage flamboyance, Chris Duarte leaves his own calling card with a fulsome tone, lightning licks, and intense grooves wrapped in a familiar Texas rock blues style. He may not quite have the songs to deliver commercial success, but this road tested rocker is nicely positioned to take the rock blues market by storm, and with 'Blue Velocity' he provides the required ammunition to leave his mark. It may have been a long time coming but it finally looks as if Chris Duarte's star is finally on the rise.
****
Review by Pete Feenstra
---
| | |
| --- | --- |
| | Print this page in printer-friendly format |
| | Tell a friend about this page |