A small but well organised event set in the 'Dell' of picturesque Chepstow Castle, South Wales this years six band line-up drew a decent crowd of hardy rockers despite some fairly atrocious weather conditions. Perhaps more commendable is the fact that all six were British acts proving once again that despite the continuing ignorance of many mainstream outlets, rock music continues to thrive.
Opening proceedings on the Saturday night were Birmingham based sleaze-rockers Rattlesnake Remedy. Already impressed by their debut album, it quickly became obvious that they also possess a strong live presence as well.
Boasting a frontman in Lee Stone who commands the stage and challenges the audience with a voice at times reminiscent of the late, great Bon Scott but with the stage moves of a young Steven Tyler crossed with Axl Rose, they played through much of their debut album and topped the set with a superbly strong rendition of it's title track 'Magic Man'. Definitely a band to watch out for on this evidence.
Next on was ex-Little Angels frontman Toby Jepson, now forging a solo career with a backing band that includes the highly talented Dean Howard on guitar. Sticking steadfastly to his post-Angels output for much of the set was arguably a brave move in front of a hardy but increasingly rain soaked crowd but the songs proved impressive, in particular 'Motivated', the lead cut from the recent Guitar, Bass And Drums EP1 release.
Highlights for me as an old Little Angels fan from back in the day though were the inclusion of Kicking Up Dust, Young Gods and Too Much Too Young that sent me on a personal trip down memory lane and home with particularly fond memories of this performance.
Headliners for the Saturday night were of course, Thunder and by the time they hit the stage around 9 o'clock they were faced with the challenge of entertaining a crowd of something around 2000 punters now largely soaked to the skin by the persistent rain. Fortunately Thunder are a band who seemingly don't know how to put on a bad show and quite honestly played a blinder.
Always willing to inject songs from their latest releases Thunder ensure that even those of us that have been watching them live since '89 find the set interesting and fresh.
Sure Danny Bowes audience participation antics may be getting longer and longer as the years progress, and yes, 'Dirty Love' still closes proceeding but the likes of 'Dirty Dream', 'Robert Johnson's Tombstone' and the almost appropriately titled 'What A Beautiful Day' all prove themselves worthy of inclusion in a set that still draws heavily from the classic debut album.
The highlights of the set for me though? A cracking rendition of 'I Love You More Than Rock N Roll' and the first encore number 'River Of Pain'. Both nailed on Thunder classics in my book.
Day two opened on a Sunday evening crowd spared the rain for a while. Local unsigned act Back Alley Sally played a spirited set to the early arrivers closing with a cover of Extreme's 'Get The Funk Out' they otherwise played an original selection that should see the attendance at their future gigs swell nicely.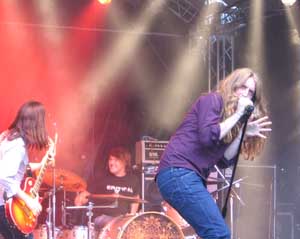 Irish outfit The Answer were on next and all but stormed the castle with a stunning set of heavy blues based rock. The debut album 'Rise' just oozes class but live these songs just take on another dimension, such is the power displayed by the four piece. Cormac Neeson looks every inch a rock star nowadays having obviously learnt well from the likes of David Coverdale during the 'Rise' tour but the skillful guitarist Paul Mahon also makes for intriguing viewing whether throwing out classic Page influenced riffs or stunning slide work.
The likes of 'Under The Sky', 'Never Too Late' and 'Into The Gutter' were almost guaranteed to please a crowd of something over 500 whilst the airing of new track 'Revolution' also shows there's more quality to come from this band.
The superb 'Preachin'' though proved the best moment and also prompted a well supported shout-along from the crowd. All in all an excellent performance proving them live to be everything I hoped and thought they'd be and for me, The Answer were the band of the weekend.

Finally it was left to veterans U.F.O. to close the set. A band for which the term 'Classic Rock' was invented they certainly didn't disappoint anybody with a setlist that despite featuring only 'Hard Being Me' from the recent album 'The Monkey Puzzle' drew from a number of previous releases.
With Pete Way continuing his one-man crusade to keep zebra-print spandex in fashion and Phil Mogg seemingly some way into a new venture as chief taste-tester for Becks lager there was a huge element of humour about the between song banter, but during the songs they proved undoubtedly that this current line-up are still a viable live act as they delivered crowd pleaser after crowd pleaser.
'Love To Love', 'Light's Out', 'Only You Can Rock Me' etc. were all greeted enthusiastically by the sodden crowd with 'Rock Bottom' and of course 'Doctor Doctor' proving the highlights of a perfect outdoor festival set.
All in all, despite some awful weather, a great weekend's entertainment and kudos must go to Hanna's Music Productions for not only securing some great bands in the package but for keeping ticket and refreshment prices reasonable and providing a camping facility with it's own resident tractor driver to assist with the getaway.
With their 'Sociable Gigger' initiative as well they also managed to create a really friendly atmosphere which ensured that all who attended would have left with some great memories. A weekend that I hope will become an essential annual event on the rock calendar.
Review and pic by Bill Leslie
---
| | |
| --- | --- |
| | Print this page in printer-friendly format |
| | Tell a friend about this page |