Acoustic show from Black Crowes brothers...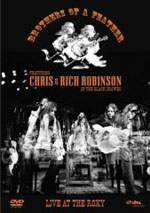 It's hard to believe that it is nearly 20 years since the brothers Robinson first came to our attention with The Black Crowes and this intimate and honest live acoustic performance features Chris and Rich Robinson on their recent 'Brothers Of A Feather' tour.
Recorded on their 3-night stand at The Roxy in LA, the boys mix old, new and covered songs, interspersed with Southern humour to keep you entertained for just under 2 hours. Among the 20 songs performed are new tracks 'Magic Rooster Blues', 'Someday Past The Sunset' and 'Cold Boy Smile', which features both brothers harmonising on this soon to be classic.
We also get old favourites 'Jealous Again', Thorn In My Pride' and 'Darling Of The Underground Press'. Also worth checking out are Rich Robinson's solo tracks 'Forgiven Song' and 'Leave It Alone'.
The chemistry between the brothers is great and whilst they are writing great new material, it can only be a matter of time before we see a new Black Crowes album.
***
Review by Nikk Gunns