BLUE OYSTER CULT Live In America Store For Music SFMCD052 (2007)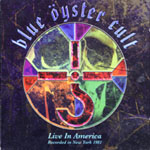 This recording comes from the New York date on the 1981 'Fire of Unknown Origin' tour, and marked drummer Alan Bouchard's last tour with the band. Little over five years on from the international success of 'Don't Fear the Reaper', and in spite of the good reviews for the 'Fire' album, this live set suggests the band seem to going through the motions.
On the one hand the best material here comes from the 'Fire' album, most notably the humorous 'Joan Crawford' and the surprisingly sparse version of 'Burnin' for You' which was to become one of the band's most durable songs. 'Reaper' comes with plenty of synth, and even a hint of dance that is far more pronounced on the title track.
But you have to set that against the fact there are two rather obvious covers and an overblown instrumental '5 Guitars' which features the estimable guitarist Donald 'Buck Dharma' Roeser but suffers from a poor fade edit.
Roeser also applies his talents to the guitar crescendo of 'Hot Rails to Hell', one of the few outings resembling anything remotely inspirational. Even the Metal favourite and semi hit 'Godzilla' has an almost funky feel to it.
In truth Blue Oyster Cult always seemed in danger of creative paralysis if only because half of the musical dynamic pushed them towards Soft Metal, while they still clung on to the kind of pop sensibility that underpins the impressive 'Joan Crawford'.
Perhaps it's best to judge songs such as 'Veteran of the Psychic Wars', complete with Boucher's assertive drum pattern, as evidence of BOC's true style. But beyond those few highlights this is standard fare reflected by its budget price.
***
Review by Pete Feenstra
Dr.Music
© 2007 The Store For Music. All rights reserved.
---
| | |
| --- | --- |
| | Print this page in printer-friendly format |
| | Tell a friend about this page |