BERNARD ALLISON Chills & Thrills Jazzhaus JHR012 (2007)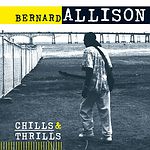 As he enters a new year with a new label and brand new album, 'Chills & Thrills', Bernard Allison offers another slice of confident sophisticated shuffle boogie and blues. And as the extensive accompanying press notes tell us this is in fact his 12th album, and surely the point where we can finally accept Bernard without reference to his late great father.
Well perhaps only partly so, as on the one hand he has undoubtedly forged his own identity on the last half dozen or so albums with some funky material full of trademark sumptuous wah wah inflected solo's in the company of his excellent ever faithful band, but as the three Luther penned tracks suggest, Bernard will always find a place in his music for the musical spirit of his legendary dad.
Overall, 'Chills & Thrills' is a classy outing but in spite of Bernard's suggestions to the contrary - 'Blues is about experimenting' and 'I've been taking risks on every album I've recorded' - he offers very little new here.
Long time fans will enjoy the grooves, the solo's, the neat band interplay and they will once again forgive their hero for not doing the one thing that would improve both his style and standing and that is to take some singing lessons.
I won't dwell on this but there are a couple of occasions where just a little use of controlled breathing would improve his vocal phrasing and bring just a tad more dynamic variety to some of the songs. On the funky 'When I'm Gone' he actually sounds like he's struggling vocally, which shouldn't really happen on a well thought out album like this.
After all, the strength of 'Chills & Thrills' lies in showcasing Bernard's versatility, but the truth is that vocally he has his limitations. But that aside, Bernard has delivered 13 classy tracks on which Rusty Hall provides unstinting support on piano and keys, while bassist Jasson Willber and drummer Mario Dawson push the front line duo all the way with some funky back beat.
As a guitar player Bernard Allison has always excelled in his use of dynamics, and the fact that he never hurries a solo. On 'Boogie Man' for example, he saves his best for last with a searing solo, and repeats the trick on the soprano led, jazzy feel of 'So Devine'. He is joined on the cut by the estimable pianist Bruce McCabe and the subtle arrangement is taken up a notch at the end by an all too quickly faded trademark Allison solo.
The ever present funk factor is further explored on 'Missing Tyrone' on which Bernard slips into a BB King mode, while on 'Just My Guitar and Me', he revisits one of his dad's best songs with some mesmerising slide and a welcome gritty vocal take. It's almost as if both Bernard and band have decided mid session to cut loose on an album highlight. There's an equally fine gospel appraisal of Luther's 'Serious' with only a few guttural vocal growls clouding a supremely confident and mature reading of one of his late dad's best efforts.
'Chills & Thrills' is everything you would expect from Bernard Allison. A superb stylistic blues composite full of intuitive tone colours, heart-felt vocals, and an aggregation of songs that show Bernard Allison to be in the vanguard of modern blues. And while the album as a whole is no sense ground breaking it sets a standard that many other contemporary blues artists would struggle to emulate.
****
Review by Pete Feenstra
---
| | |
| --- | --- |
| | Print this page in printer-friendly format |
| | Tell a friend about this page |