Birth of radicalism to a rock soundtrack...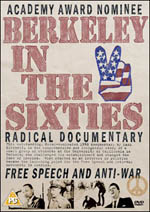 For a DVD that relies in a large part on anecdotal evidence, as well as old news and personal film footage of the time, 'Berkeley in the Sixties' successfully manages to convey both the spirit of the times and further points in the direction of a coherence to events at the time.
As you can gather this DVD does live up to its sub text as being a 'Radical Documentary' but with some thoughtful talking heads from leading proponents of the time - who all seem to have stayed true to their core beliefs - and the occasional snippet of classic 60's music as a cultural back drop, this is a documentary to whole heartedly recommend.
Perhaps the most significant thing to note about a documentary that charts the different strands of social protest from the early Civil Rights movement on the Berkeley Uni campus through the anti Vietnam War protests and the later hippie, black rights and Women's Movement, is that those people at the core of all these radical strands were ultimately motivated by an original belief in the American constitution that they sought to change for the better.
The black and white footage, the interviews and indeed the music from Joan Baez, Phil Ochs, The Grateful Dead, to Country Joe (complete with Barry Melton's thoughtful ideas),Hendrix and more cleverly the later but equally relevant 'The Revolution Will be Live' by Gill Scott Heron, all convey pieces of a political landscape that was in effect a radical jigsaw.
Everything at the time appeared to be politically interlinked, from American oversees policy to racial and personal politics. Seen in hindsight and taking a benevolent view, this doc also eschews the need to preach and gently teases out the dawn of a broad based movement that essentially sought to liberalise a previously McCarthy led conformist American culture.
Covering most of the 60's from 1960 onwards, 'Berkeley in the Sixties' cleverly steers clear of personality politics - counter culture of otherwise - and focuses solely on the birth of radicalism. The film is strongest in conveying the sense of the early Civil Rights movement, and just about neatly captures all the resulting areas of the protest. And given its ability to cover such a bewildering and complex decade in such an interesting and objective way, 'Berkeley in the Sixties' is well worth seeking out.
****
Review by Pete Feenstra