BEN REEL BAND New Horizon (2007)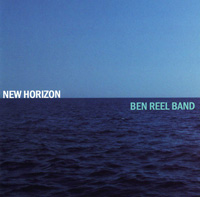 I'd been itching to hear this album since reviewing the lead single Waitin' For U. But after several listens, I'm still sat firmly on the fence.
Ben Reel is one of Ireland's best-kept secrets. Despite supporting bands such as The Cranberries, Alabama 3, Jools Holland, Michael Ball (?), and The Blockheads, he remains largely unknown. And, I'm sorry to say it, but New Horizon is unlikely to change that - in the UK at least.
Which is shame, because it's a beautifully put together album. Wonderfully played and recorded. But you'd never guess he's from the Emerald Isle. The west coast of the USA. That'd be my guess, because it's perfect American soft rock FM radio material.
Which is great, but it leaves Ben with a distinct image problem. Which is what makes Ben Reel different from every other Marc Cohn? And the trouble is, I'm having great difficulty putting my finger on it.
But perhaps I'm being a little unfair, because there's no doubt that that this is a really good album. Best described as earthy, with a touch of blues and roots, garnished with soulful vocals, there's no denying this is grounded pop/rock without frills.
Trouble is, it's almost a little too polished. Pre Destination Prayer is Jack Johnson-like, Come Out From Within is like an itch I can't scratch - somewhere between the Boss and Boz Scaggs, while Hell In Your Own Head is so Money For Nothing based its untrue. Some nice female backing vocals though (better than Sting).
When Will We Ever Be Free is about the plight of the American Indian and could have been something Phil Lynott may have come up with early in his career. Orbit is dreamy, while Waitin' For You is a highlight - Van The Man at his very best. Westcoast is strangely a reference to the West Coast of America (and not Ireland) - again it falls somewhere between The Boss and The Man.
And the further you delve into the album, the deeper you get into American roots - which simply wasn't what I was expecting. All Souls Alive is somewhere between Springsteen and Dire Straights. And that's where most of this album falls - firmly in the Van, Dire, Boss spectrum. Nothing wrong with that, but let's be honest it's hardly the sound of the moment. But of it's genre, New Horizon can hold its head high. And not many could say that - especially over an album delivering 15 classy tracks.
But you suspect that if success is to be found, it's on the other side of the Atlantic.
***½
Review by Pete Whalley
---
| | |
| --- | --- |
| | Print this page in printer-friendly format |
| | Tell a friend about this page |