BELINDA CARLISLE Voila Rykodisc (2007)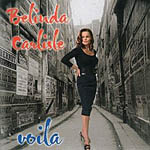 What have the French ever done for us? Well in my lifetime, they've given us Bridget Bardot (I recall, with fond memories, a wonderful 1970's poster that used to adorn the back of my bedroom door), then a little later along came soft cheeses - brie, camembert , French wine, garlic and French bread. And of course France was one of the earliest destinations for foreign holidays (or at least for those within easy reach of the south coast).
But what about music? OK, Je T'aime Moi Non Plus by Jane Birkin and Serge Gainsbourg was just about the sexiest song ever, but anything more? Sacha Distel?
No, French music does not travel well (assuming there actually is a French rock sub culture). Yet somehow you feel intuitively that 'the language of love' would be perfect for an album of late night music imbued with sexy Gaulloises smoked vocals.
But perhaps the last person you would expect to attempt such a fete would be one time Go Go and one time worldwide solo chart topper Belinda Carlisle. In her first solo outing for 10 years she's pulled together a pretty heavyweight line up - Brian Eno on keyboards, Fianchna O'Braonain (Hothouse Flowers) on guitars, Sharon Shannon on accordion, Julian Wilson (Grand Drive) on keyboards and world music star Natacha Atlas on backing vocals - for a tribute to the classic French chansons and pop music of the '40's, '50's and '60's. And on production duties another stalwart - John Reynolds (U2, Sinead O'Connor, Indigo Girls and Hothouse Flowers).
What you get is 10 French language tracks delivered, according to Belinda, with 'no holds barred' and 'with a playful contemporary feel'. And for those quick off the mark the early 'edition limitee' comes with a bonus disc of 4 English cover versions. There's actually plenty of room on the disc to have included them as 'standard' but then, being cynical, an 'edition limitee' just looks a much more desirable purchase.
In the studio the songs were played with, all sorts of instrumentation and arrangements tried until the pieces just fell into place. Belinda's only preconceived notion being that she wanted to sing with an accordion. And what you get is, well undeniably French. It's also unmistakeably Belinda Carlisle, whose distinctive warble has ,if anything, matured over the wilderness years.
It's an altogether enjoyable outing - mature and sophisticated pop played by a bunch of musicians who sound like they did it for fun, and Belinda's vocals are eminently suited to the fare on offer - Gallic soul, street carnival waltzes, new wave rock (Blondie, anyone?), driving disco and straight interpretations.
Even if you don't understand a word (and I didn't) it's a pleasant blast and the bonus English versions add little, if anything to the enjoyment. So all in all, a novel idea and a welcome return. Vive la France, as they say in Belinda's house.
***½
Review by Pete Whalley
---
| | |
| --- | --- |
| | Print this page in printer-friendly format |
| | Tell a friend about this page |