Not quite cut-and-paste...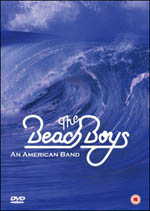 While you would expect any documentary on the Beach Boys to deal primarily with the music and perhaps less with the complexities of a family group managed by their dictatorial father, let alone the machinations of Brian Wilson's mind, this documentary doesn't really do either.
By placing the emphasis on the 'American Band' portion of the title, any initial misgivings about a gloss job are never quite dispelled. OK. So we learn that only Dennis could surf, and that the band only sacked their dad when they realised he was taking ten per cent of the publishing, and 'it was hard to chew your dad out', which ushered in Brian as the producer.
So if you are looking for some fresh new insight into the mind of Brian Wilson, or perhaps Dennis Wilson's link with the Manson family, let alone the way drugs affected the music, you will be disappointed. That said, there are 42 classic songs here ranging from the early Doowop surf songs to the psychedelic classics like 'Good Vibrations', and rare footage from Brian's 'Surfs Up' delivered via old TV clips, promo films and the like.
The talking heads band interviews come from the mid 70's, and overall this DVD comes across as a slightly better than average scissors and paste job.
Much of Brian's interview footage comes from him as a bloated figure in bed. His heroes were the rock & rollers Chuck Berry, Little Richard, producer Phil Spector and the four part harmonies of the Four Freshmen, and he concurs with the view that his genius was down to the fact that his brought harmonics to rock and roll.
For the rest the steady band's career is traced via more clips some of which are reminiscent of The Beatles, some include cameo parts with the likes of McCartney and Bob Hope, and those used to represent Brian's drug induced mind are just plain clumsy.
But on balance the music just about wins out and although there is little new here for avid fans, this DVD will doubtless appeal to the casual fan.
***
Review by Pete Feenstra