ASIA Fantasia - Live In Tokyo MVD Visual DR-4552 (2006)
Original Asia revival...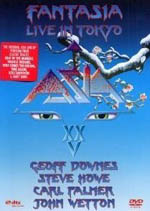 The DVD set now follows after the double CD was released earlier in the year. Eighteen tracks in all recorded before an enthusiastic crowd with the emphasis on the band's self-titles debut album. Plus of course each band member dips into their other bands so you have ELP's 'Fanfare For The Common Man' and 'Roundabout' by Yes, which really gets the crowd going when Steve Howe starts to play the intro chords.
All four band members are still at the top of their game and good to see the non-album track 'Ride Easy' played live. The only bonus feature bar the usual audio options are interviews with each band member.
Of these, Carl Palmer and Steve Howe provide interesting insights into how the band work together and how this reunion came about. John Wetton gives some background as to how the band originally came together - more by chance in that each band member was at a loose end!
Would have been nice maybe to add the promotional videos the band made back in the 80's.
Good picture and sound quality throughout make this an essential purchase for fans of the band's original line-up.
****1/2
Review by Jason Ritchie
***** Out of this world | **** Pretty damn fine |
*** OK, approach with caution unless you are a fan |
** Instant bargain bin fodder | * Ugly. Just ugly