ARTI & MESTIERI First Live In Japan Moonjune MJR012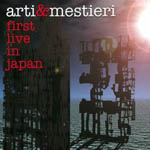 Arti & Mestieri's 'First Live in Japan' is a jazz rock fusion album whose musical parameters suggest that those heady mid 70's Jazz fusion days have been preserved in aspic. The most obvious reference point here is the violin work of Laurato Acosta who references both Jean Luc Ponty and Jerry Goodman in his sonorous solos while the band as a whole play with the kind of fractured ensemble intensity of say Mahavishnu Orchestra and the melodic Jazz rock of the fondly remembered If. Then there are the individual performances of Beppe Crovella whose synth and mellotron work recalls the virtuoso intensity of Chick Correa and the jet propelled drumming of the aptly names Furio Chirico, who the album's accompanying notes quite rightly mention in the same breath as Billy Cobham.
The music is inevitably a tad retro as much of the work comes from the band's own 1974 'Tilt' and 1975 'Giro Di Valzer Per Domani albums. All 7 members of this band have their part to play right down to vocalist Iano Nicolo whose phrasing over the course of the album shifts from doubling up the instrumental melody lines and adding some impressive scat lines to taking centre stage on the opening 'Gravita 9.81'over a very retro sounding mellotron. In fact 'Gravita' revisits all the main facets of crossover 70's Jazz fusion, with Alfredo Ponissi's horn work reminding me of 70's giant Klaus Doldinger.
On 'Positivo/Negativo' the band work their way round a flighty horn and violin led theme backed by some delicate percussion before a characteristic change of tempo. If anything the musical structures are a little pedestrian as on the intro of 'In Cammino' on which the first 90 seconds could have been dispensed with. The band finally launch into a few meandering Zappa style lines, delivered over some feverish drum rolls, before the sax picks out the theme and solo's with abandon. Back in the 70's this might have been considered de rigueur. 30 years on it sounds a bit staid, but having said that the Arti & Mestieri do work up a scintillating head of steam. On 'Valzer Per Domani', the lead instruments double up to punctuate a disguised waltz with some lovely soloing. On this occasion the melody line is strong enough to retain our interest. The scat singing on 'Mescali/Mescalero' offers a Latino feel and by turns offers a quirky feel reminiscent of Tijs Van leer in Focus.
Arti & Mestieri seem at their best when teasing out a strong thematic opening as on 'Dimensione Terra' before an inevitable but magnificent sax solo. Alfredo Ponissi explores the full contours of his horn, dredging up a beautiful tone before giving way to Beppe Crovella on synth and mellotron. The instrumentation may be very retro but the energy levels and invention is a joy.
And therein lies both the pros an cons of a project like this. Taken as a nostalgic return to those heady days when virtuoso playing was a primary concern, this live Art & Mestieri outing impresses with its fiery chops and dense chunks of Jazz rock. The down side is that quite obviously it has all been done before by higher profile bands than this. But ultimately there is enough of a spark between band and the attentive Japanese audience to make this set of more than passing interest to Jazz rockers and prog rock fans alike. The closing organ led '2000' is a suitably rocky and climactic finish to an album full of fractured melodies, rhythmic stops and starts and several complex compositional pieces that allow just enough room for each member to express themselves in full.
***
Review by Pete Feenstra
---
| | |
| --- | --- |
| | Print this page in printer-friendly format |
| | Tell a friend about this page |