ARCH ENEMY Rise Of The Tyrant Century Media (2007)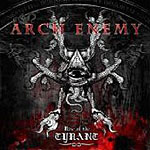 Now this new album by Arch Enemy must be good as previously I couldn't even listen to their melodic death metal due to vocalist Angela Gossow sounding like she was gargling with TCP! In fact death metal as a genre for me has great music but the vocals are what turn me off the genre in the main. However, on this album the death metal vocals are still here but when backed by such superb guitar soloing and riffs you soon grow to like the album.
'The Last Enemy' and 'Blood On Your Hands' really pummel your senses with wave after wave of guitars, driven along by the requisite rapid double bass drums. To really appreciate the guitar playing of Michael and Chris Amott just listen to the instrumental 'Intermezzo Liberte'. This features fluid guitar soloing whilst keeping it all reined into a melodic yet heavy as f*** tune. The title track and 'Night Falls Fast' hint at Iron Maiden, although obviously less the female vocals.
Take it from me if you had steered clear of this band previously due to the death metal tag then you will be missing a treat! This could well turn out to be the band's defining album of their career and certainly one that sees them break out into the wider metal market.
****
Review by Jason Ritchie
---
| | |
| --- | --- |
| | Print this page in printer-friendly format |
| | Tell a friend about this page |