ANGEL OF EDEN The End Of Never Lion Music (2007)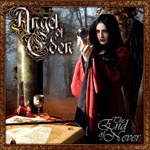 This new band is formed around former Artension guitarist Roger Staffelbach and he is joined by Carsten Schulz of Evidence One on vocals, along with fellow Evidence One band member Rami Ali on drums and the keyboard wizard Mistheria. It is very heavy neo-classical metal – not unlike Yngwie Malmsteen (whose 'You Don't Remember, I'll Never Forget' is a hidden bonus track on here and it is a corker!) or even Dio-era Rainbow in the musical arrangements.
There are three instrumentals on here of which 'Return of the Pharaoh Part 1' features ex-Manowar guitarist Dave Shankle and to be honest I skip this track as it is a little too slef0indulgent guitar soloing for my tastes. But the second part of this piece is much more melody driven and 'Towards The Light' is simply immense with its swirling keys, grandiose guitars - pomp rock lives!
Carsten Schulz suits the songs down to a tee as they require a forceful set of vocals to meld with the heavy drums and guitar riffs that can be found on 'The End Of Never' and the title track. Former Artension and Royal Hunt vocalist John West takes lead vocals on 'The Battle Of 1386', a big, bold number with layers of harmonies and a strong vocal from John West as you would expect.
Hopefully this will be the first of many albums from this new band as they really have laid a solid foundation with their debut album. I was never a fan of Staffelbach's previous band Artension finding them to technical and not song driven enough but with Angel Of Eden he has really surpassed himself.
****
Review by Jason Ritchie
Interview
---
| | |
| --- | --- |
| | Print this page in printer-friendly format |
| | Tell a friend about this page |
***** Out of this world | **** Pretty damn fine |
*** OK, approach with caution unless you are a fan |
** Instant bargain bin fodder | * Ugly. Just ugly
get ready to rock is a division of hotdigitsnewmedia group