Not quite Yes...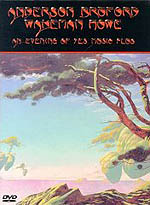 One for all Yes fans and more, this is typical Yes grandiose self indulgence, but it's not Yes is it, but those best known for being in Yes.
The set kicks off with 3 solo sets; firstly Jon Anderson singing a song or two as he walks to the stage through the crowd, then Steve Howe and Rick Wakeman, all to an appreciative crowd , who are treated to some of each's solo work.
'Long Distance Runaround' follows, which includes a Bill Bruford drum solo, on an electronic set so big he has to step around to reach everything!
The band become more animated and more Yes songs follow; 'Roundabout' and 'Close To The Edge' stand out. A lengthy 16 song set with solos, melodies, harmonies, this is Classic Yes that isn't quite under the Yes banner.
It was done when there were battles over the Yes moniker and the styling for the Anderson Bruford Wakeman Howe banner, album and tour was done to almost intentionally confuse. Even down to the Roger Dean artwork that also dons this DVD. But the music is classic and what all prog and Yes fans will want.
The band are on form, Anderson note perfect, the brilliant Wakeman always smiling.
Big stage, Big lightshow, Big event. You'll love it!
****
Review by Joe Geesin