Slightly sterile gig from folk to rock duo ...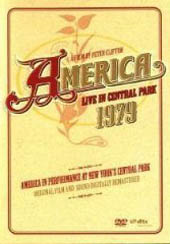 America typified a large amount of the American music scene in the 70s, combining folk rock and country rock and throwing some West Coast in to the mix.
This film captures the band on stage in New York's Central Park in 1979, when the band were down to the duo of Dewey Bunnell and Gerry Beckley, on the release of their 'Silent Letter' album.
The live line-up is full, with drums, percussion, piano and strumming guitars aplenty. Many a hit is in the set, including "A Horse With No Name", "Tin Man" and "Sister Golden Hair".
In between the live shots, the concert continues to provide a soundtrack to other shots by acclaimed film maker Peter Clifton, who followed the band on tour and in the studio to add to the footage.
Seeing the band in the studio rehearsing a song with the song performed live over the top - not everyone's cup of tea, quite artistically done.
Both sound and film have been remastered, it's very clear and enjoyable.
Bonuses include commentary from Clifton. A good package, although the concert itself is rather sterile with little in the way of chat between songs. The songs are tight and solid, some good guitar and saxophone solos, but you feel they are reproducing a basic greatest hits rather well.
A CD would be a good intro to the band for anyone, but the DVD is really for fans.
***½
Review by Joe Geesin