THE NEW AMEN CORNER Live at The Boom Boom Club: Volume One & Two NACDMM 001/2 (2006)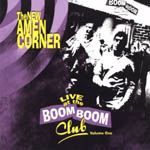 The New Amen Corner are a quality band with a strong musical pedigree including Jeff Beck, Roy Wood, Robert Plant and they have the chops to be considered worthy of reigniting interest in the 60's band. In truth the 7 piece band break no new ground but comprise a killer horn section and in vocalist Glen Leon have unearthed a new vocal star worthy of filling in Andy Fairweather's footsteps. Sanctioned by both original band members, vocalist Fairweather-Lowe and sax man Alan Jones, The New Amen Corner apparently came about via a long standing professional friendship between sax player Frogman Curtis and Alan Jones, and given the fact that crowds have been flocking to see the band, the only question remains what do they offer in the year 30 years on?
The honest answer as evidenced by this glorious live two CD romp through the best of The Summer of Love, is a brilliantly played 60's retro set that takes in the hits 'Bend Me Shape Me', 'If Paradise Is Half As Nice', 'Hello Suzie', 'High in the Sky', 'Gin House' and eventually concentrates solely on the year 1967.
The two volumes are neatly split between the pop era covered by volume one and the West coast influenced psychedelic material on volume two.
Volume One majestically sweeps through Farlowe's 'Out of Time', and surprises by turns with for example a superb rendition of the Walker Brothers', 'The Sun Ain't Gonna Shine Anymore'. The long overlooked Zoot Money R&B gem 'Big Town Operator' is well handled by drummer Curly McVicar, while guitarist Leroy Small chips in with three Small Faces favourites including 'Itchycoo Park'.
The climactic 'He Ain't Heavy', closes CD one and while both horns solo impressively it is Glen Leon's quite stunning vocal phrasing that leads the band into a spine tingling three part harmony outro that the Hollies themselves would have been proud of. ****
Volume Two is more hip, and opens with a pastiche 60's intro that name checks some of the songs and faces of the time, and segues into a sample of the first ever Radio One jingle (complete with Tony Blackburn) and a version of The Move's 'Flowers in the Rain', the first song to be played on the Radio One.
The 8 track song cycle includes a cracking 'Happy Together', and Glen Leon again excels himself on the challenging Cocker version of 'With a Little Help From My Friends'. By the time of a 5 number 'Summer of Love Medley' which includes 'Summer in the City', and the very cool horn arrangement of 'You Made Me So Very Happy' by Blood Sweat & Tears', you are really back in the golden era of the late 60's.
CD2 offers a further five studio bonus recordings of the hits, and the two volume 'Live at the Boom Boom Club' is in sum a superbly unrepentant, unreconstructed romp through happier musical times by the New Amen Corner, a band that carries it's musical heritage with style. ****
Review by Pete Feenstra
---
| | |
| --- | --- |
| | Print this page in printer-friendly format |
| | Tell a friend about this page |