ALL ABOUT EVE Sixty Minutes with
Voiceprint VP6012CD (2007)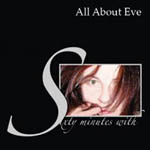 Part of a new series from Voiceprint that showcases the work of some of our best-loved bands.
All About Eve might be considered forefathers of goth, their career developed from purveyors of attractive folksy rock in the late eighties through to their swansing electro offerings at the dawn of the 1990s.
The band unravelled after their last album for Phonogram and their more recent career has been served by sometimes patchy live and studio releases where the band struggle to find a new voice.
It's a pity that the sleeve notes don't really do justice to this release, anoraks would have loved to know a little bit more about each track. There's no dates, times or detail.
In fact, for the uninitiated, this package has the whiff of one of those low-priced samplers you'd pick up at motorway service stations.
All tracks will no doubt be familiar to the faithful but, intriguingly, this release includes early demos for their first album and an extended mix of 'Flowers In Our Hair'.
There has been a certain amount of recycling of AAE material, much of it on this label, with live versions of 'classics' substituting for the original material licensed to Phonogram.
As a gentle introduction, this CD does fit the bill and is a fair overview of a band that have produced such gems as 'Martha's Harbour', 'Scarlet' and 'What Kind Of Fool' (all included here in some shape or form).
With the band still performing in a new iteration, it also holds out the hope of greater things to come.
***½
Review by David Randall

---
Flowers In Our Hair
© 2007 Voiceprint. All rights reserved.
---
| | |
| --- | --- |
| | Print this page in printer-friendly format |
| | Tell a friend about this page |