Just witnessed your best live gig?..send us a review!
ALICE COOPER, MOTORHEAD, JOAN JETT
London, Wembley Arena, 17 November 2007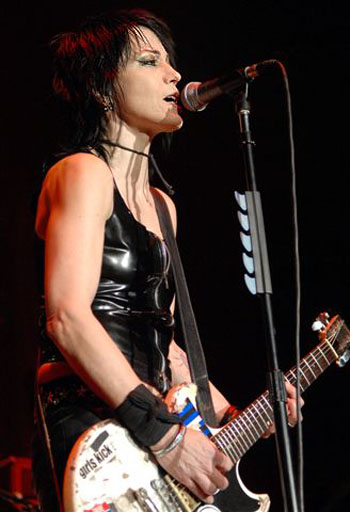 Joan Jett, photo: Lee Millward
An early start with Joan Jett and the Blackhearts getting things underway at 7pm to a half full arena (by the time Motorhead arrived the venue was 3/4 full), which was good going considering this same night the Foo Fighters were at the O2 Arena and Foreigner were at the Shepherd's Bush Empire.
Joan Jett played a crowd friendly set of hard rock meets punk with a few tunes of her latest album 'Sinner' plus a cover of Gary Glitter's 'Do You Wanna Touch', which on reflection has very dubious lyrics where Glitter is concerned! Of course you got 'I Love Rock 'N' Roll' and 'I Hate Myself For Loving You'. I was mightily impressed by Joan Jett and her band (the drummer really pounded out the rhythms), whose newer material would appeal to Green Day fans for sure. Great start to the evening!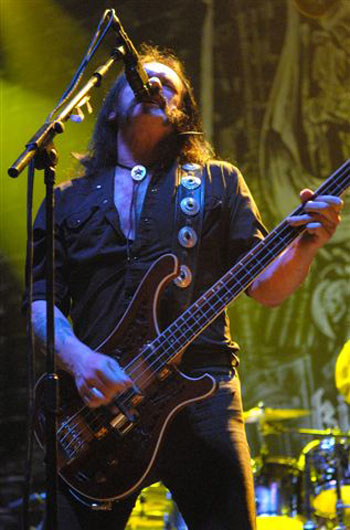 Lemmy, photo: Lee Millward
Motorhead were sadly disappointing as Lemmy & Co. keep insisting on making it louder which results in a distorted sound, which for the average pissed Motorheadbanger maybe fine but I like to hear the music as Lemmy pens some damn fine tunes like 'Over The Top' and 'Stay Clean' both of which suffered due to the loud sound.
Classics such as 'Ace Of Spades' and 'Overkill' were played as you'd expect. That said they went down well with their fans although there were a lot of Alice Cooper fans out in the foyer who were hiding form the sound! From a personal point of view I preferred them when I saw them back in the late 90's. Yes they were loud but at least you could hear the songs instead of a loud noise...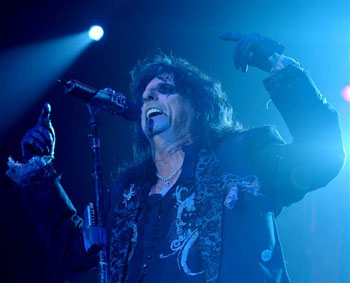 Alice Cooper, photo: Lee Millward
Alice Cooper and his band (dressed as zombies I believe) took to the stage at 9:40 and the set list wasn't that different from the last time I saw Alice Cooper at Wembley back in 2002 (with only drummer Eric Singer left from that live band). At the start of the show he killed off a white/good version of himself so the dark side of Alice could perform the show...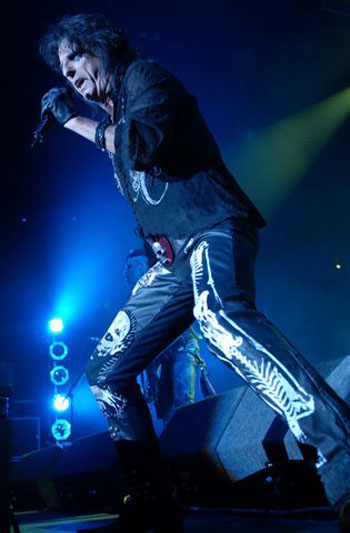 Alice Cooper, photo: Lee Millward
The classics were here like 'I Am Eighteen', 'Cold Ethel', 'Under My Wheels', 'School's Out', 'Welcome To My Nightmare', 'Only Women Bleed' and 'No More Mr Nice Guy' - all played with passion by the band and Alice as ever is the consummate showman.
The stage show was a tad more gothic and menacing than before with Alice getting hanged towards the end of the show plus the killing of a bride and other various horror bits throughout the show. After his hanging Alice was back for 'Billion Dollar Babies' and the night closed with encores of 'Poison' and 'Elected'. Alice Cooper puts on a show as you would expect although this time around it was more about the music with less stage show and as ever he never disappoints.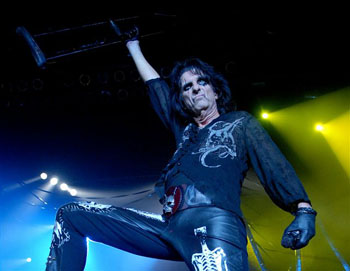 Alice Cooper, photo: Lee Millward
An enjoyable night of rock and roll and may be next time Alice Cooper tours he may do all of a classic album like 'Welcome To My Nightmare' or add a few more lesser played songs into the setlist.
Review by Jason Ritchie
Photos by Lee Millward/GRTR!

---
| | |
| --- | --- |
| | Print this page in printer-friendly format |
| | Tell a friend about this page |