ALCATRAZZ The Best Of Store For Music SFMCD065 (2007)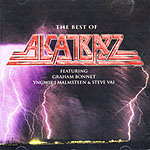 With Yngwie Malmsteen on tracks 1-6 and Steve Vai, tracks 7-11, and Jimmy Waldo (Quiet Riot) on keyboards you'd be forgiven for expecting Metal Heaven.
But at best this compilation just serves to provide an early bookend to the respective guitarists' careers.
'The Best Of' is a synthesis of the three studio albums the band produced in 1983, 1985 and 1986 respectively: 'No Parole From Rock n Roll', 'Disturbing The Peace' and 'Dangerous Games' (with new guitarist Danny Johnson).
In the main it is workmanlike melodic rock, characterised and date-stamped by predictable synth stabs and average production values.
Graham Bonnet formed this band after his exit from Rainbow and he adds sonic sheen throughout, but the songs are so-so.
And before you ask, the solos aren't expansive enough to compensate. Malmsteen does impress on the strangely titled 'General Hospital'. As for Vai, 'Painted Lover' and the excellent 'Mercy' give him a chance to demonstrate his jazzier-than-Yngwie licks.
This compilation is bolstered with three live tracks, where Bonnet reprises 'All Night Long', 'Since You've Been Gone' and 'Night Games'. Malmsteen must have been in his element, as he was heavily influenced by Bonnet's former boss Ritchie Blackmore. These tracks come from 1984's 'Live Sentence' which was only released in Japan. Malmsteen quit soon after.
This release is a timely retrospective as Bonnet has convened an all-new version of the band for Japanese dates this summer.
One for Malmsteen/Vai completists only who will surely want to search out the original albums. And, sadly, the lazy sleeve notes (which have been culled from the All Music Guide and not credited) let this package down for completists and newcomers alike.
***
Review by David Randall

General Hospital
© 2007 The Store For Music. All rights reserved.
---
| | |
| --- | --- |
| | Print this page in printer-friendly format |
| | Tell a friend about this page |