Essential blues from a master...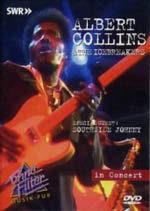 Albert Collins & The Icebreakers in Concert is an essential DVD purchase. Unlike many blues sessions where either the artist is past his sell by date, or is filmed with a pick up band, this dvd finds the late Albert at the top of his powers with a cracking band, including Detroit guitarist Robert Noll who to this day still works with Albert's bass man Johnny B Gayden.
Recorded in 1985 with his long time peerless rhythm section of (a very young looking) Johnny B Gayden and drummer and some time producer Casey Jones, plus Abb Locke on sax, this one hour set delivers a cracking performance comprising 8 great live Collins outings from the best of his Alligator albums, and only makes you wonder why they didn't film the rest of the set?
Culled from the excellent Bavarian 'Ohne Filter' TV show, this superb set was recorded just before Albert went in to the studio with Robert Cray and Johnny Copeland to cut the Grammy Award winning 'Showdown' album. It's relevant to mention this as Albert had spent the previous 7 years on Alligator rekindling a career that originally brought him success in the 60's, but had later stalled for over 7 years in the 70's. And yet on the evidence of this dvd, you would be hard pushed to find a better blues act, a more consummate player let alone a more charismatic performer.
If anything, Albert Collins playing style was so unique that once he has gone though his repertoire of staccato notes, including a measured use of sustain, a clever counterpoint of high and low notes, and short bursts of repeated notes, and pregnant pauses, you might be forgiven for asking what next? But as this show thrillingly demonstrates he was a man for who the use of dynamics extended to his set as was well as to his playing style. Thus we get the perfect mix of funky workouts, slow blues, deep shuffles, and plenty of room for his impressive band to stretch out. On 'If Trouble Was Money', which he actually sings in reverse order, he makes use of humorous metaphors to match the twinkle in his eye.
On the closing signature tune 'Frosty' he goes walkabout in a fashion that suggests that Freddie King and various other blues contemporaries may have done the same but not with the style and swagger of Albert Collins. Watch out also for an unlikely appearance by Southside Johnny on harp on the Collins favourite 'Brick'. Johnny works hard to deliver a flighty solo, but is all but eclipsed by Albert's supremely toned brief solo over the tightest rhythm section in the business.
Unreservedly recommended as an audio visual blues primer, this DVD comes with a good autobiography (albeit with a dodgy translation) and a telling interview from the show's producer Michael Au, who poignantly notes that his inspiration for starting the programme came from the fact that blues, R&B, soul, fusion and rock and roll etc weren't catered for on terrestrial TV in Europe. So much for the BBC and associated public broadcaster's role as guardians of good taste, and who back in the mid 80's gave us New Wave and little else.
'Albert Collins & the Icebreakers in Concert' is a classy representation of one of the last blues guitarists who truly left a legacy, and is a slice of unparalleled music whatever your taste, and the fact that this concert is superbly filmed and recorded makes this DVD indispensable.
****
Review by Pete Feenstra