Fusion flavours from Big Al...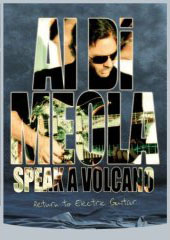 Although this DVD and gig is trumpeted as a return to the electric guitar, the biggest chunk of this live performance in front of German TV cameras is acoustic. That said if you are a fan of Di Meola, or indeed well-executed jazz fusion with a Latin bite, you will want to indulge.
Di Meola has had a stellar career from the mid-seventies as part of the jazz rock group Return To Forever (RTF), through his own solo output, to collaborations with Paco de Lucia, John McLaughlin and Jan Hammer amongst others.
Understandably this set features selections from his then current album, 'Consequences of Chaos' and the earliest piece is 'Senor Mouse' from his 1978 'Casino' album, although this also featured on the earlier RTF album 'Hymn To the Seveth Galaxy' in 1973.
This set - from November 2006 - opens with several electric pieces that highlight the excellent musicianship on display, piano and synth string keys adding texture to Di Meola's fluent guitar. If there is one criticism, his playing is typically economical and controlled often falling short of a true stops-out solo. He is a founding father of shred guitar that would influence a whole new generation of metal guitar heroes in the 1980s, but there's scant evidence here.
Although he returns to the electric for the finale, the middle section of the set is given over to acoustic guitar. Di Meola's typical modus operandi is a repeated motif, an attractive melody, and sharp interplay with his fellow musos.
This DVD sits well with other guitarist gigs in this series, notably Larry Carlton and Larry Coryell.
Bonus features include an interview with the man himself tracing his influences and his guitar tips where he explains some of his techniques. This is a well recorded and filmed set - an excellent visual account of an influential and inspiring musician.
****
Review by David Randall