A.C.T. Reissues Inside Out Special Editions (2007)

Inside Out are re-issuing the band's first three studio albums as special editions, each of them including bonus material and enhanced booklets.

Today's Report was originally released by MTM in 1999. Bonus material on the current special edition re-issue includes two rare tracks, 'Grandpa Phone Home' (described by drummer Tomas Erlandsson as 'Abba meets 10cc') and 'New Age Polka' as well as a live video of 'Welcome'. The Queen like harmonies and arrangements are certainly in place on this debut album although they lack the run of killer tunes found on their later albums. That said 'The Wandering' and the title track ooze class. ***½

Imaginary Friends was again originally released by MTM back in 2001 (subsequently re-issued by Atenzia in 2004). This latest re-issue includes the bonus track 'Catherine' and an eleven minute documentary on the making of the album. The band really let fly their musical ability on this album, from the quirky 'Hippest Flop' through to the epic 'She/male Relationships (The Long One)' they keep the listener hooked.

For many fans of the band this is their favourite album but for me they have yet to beat. ****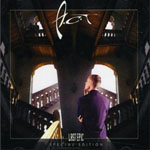 Last Epic came out on the now defunct label Atenzia back in 2003. This was the band's first concept album and from the 'Intro' through to the 'Outro' it is one glorious listen full of pomp rock, layers of keys and vocals and some damn fine tunes like 'Mr Landlord'.
Melody and harmonies are a key ingredient to the album's success from the Supertramp/ELO high harmonies on the superb 'The Cause' or the ELO style strings that link many of the songs. Prog rock fans will enjoy 'Wailings From A Building', an interesting mix of guitar with piano and some chunky riffing on the chorus.
'Torn By A Phrase' mixes shade and light with acoustic moments mixed with guitar bombast - Dream Theater fans will enjoy this. *****
ACT are hard to fit into any musical niche, a fact that may be why they are not that well known (yet!) amongst rock fans in general. But if you own albums by ELO, Queen, Supertramp, Dream Theater, Cheap Trick and Jellyfish to name but a few you are bound to enjoy these albums and if you buy only one then it has to be 'Last Epic'!
Review by Jason Ritchie
---
| | |
| --- | --- |
| | Print this page in printer-friendly format |
| | Tell a friend about this page |