WALTER TROUT & FRIENDS Full Circle
Ruf Records RUF1117 (2006)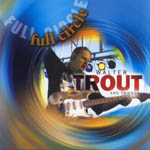 'Full Circle' draws together some of the high profile blues players that have coloured Walter Trout's musical palate in a career spanning over 30 years.
Surprisingly perhaps, 'Full Circle' is in fact Walter Trout's first blues album, a fact that tells you much about the guitarist's broad appeal. And by temporarily disengaging himself from his band The Radicals for this one off project, Walter admirably pays homage to the blues styles and players that have influenced him, without jettisoning his rock roots in the long term. And where better to start than with his old mentor John Mayall.
There are several notable highlights on this album, and none more so than the pairing of Trout and Mayall on the opening slow blues 'She Takes More Than She Gives'. Walter's passionate singing and big toned guitar acts as the perfect foil for John's edgy vocals and fine harp and piano playing.
The following track is the single 'Working Overtime' and is a sledgehammer riff driven outing with Canadian Jeff Healey. Needless to say the album features further incendiary guitar workouts of which Trout's outings with Guitar Shorty and Joe Bonamassa stand out.
But the strength of this album lies in the exploration of the varied composite blues influences that have brought Walter into the forefront of the contemporary Rock Blues field.
The heartfelt rendering of Luther Allison's 'When Will It Ever Change' with his son Bernard, and some swing led jump blues with Canned Heat's Junior Watson and deep harp led blues with James Harman all demonstrate a wide take on the blues idiom.
Even more impressive is the fact that the album comprises live one off takes. The closing, climactic Trout/Bonamassa 'Clouds On The Horizon' for example, was written and recorded in one take in the studio - impressive stuff indeed.
The set is nicely rounded off by DJ Larry Keene in the form of a radio rap impressing on the listener the geographical and historical origins of the blues styles to be heard on this excellent album.
****
Review by Pete Feenstra
Related>> BBC session
Working Overtime
© 2006 Ruf Records. All rights reserved.
Interview
© 2006 Walter Trout Fan Club. All rights reserved.
More interview clips on the Primer (click below,scroll down for clip listing)