TRACY BONHAM 'Blink The Brightest'
Zoe Records (2005)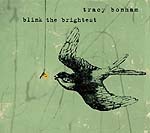 This is Tracy Bonham's third CD, one that she's financed through the sales of CDs at gigs but now with heavyweight production support in the shape of Greg Collins (U2,Matchbox 20), and Joey Waronker (drummer with REM).
Two songs into this CD you know you're into something special. Opening track 'Something Beautiful' could easily be a sub-Stevie Nicks outtake and has a radio-friendly chorus. The second song 'I Was Born Without You' changes mood but once again there's that irresistible chorus.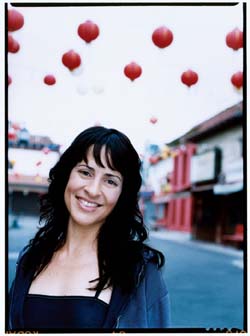 Too many female singer-songwriter offerings these days fail to live up to the promise of the opening salvo. But I have to report that 'Blink The Brightest' is an exception.
Yes, there are strong echoes of contemporaries, and Sheryl Crow and Shawn Colvin spring to mind, but there's also a certain quirkiness in Bonham's writing that makes this especially compelling. In amongst the killer choruses 'Whether You Fall' and 'Wilting Flower' demonstrate that Bonham can slow it down when necessary, the latter has a chilled-out soulful vibe.
And then, when you come back to the choruses, songs like 'Eyes', 'Take Your Love Out On Me', 'Shine' and the superb 'Naked' guarantee replay value.
Put simply, 'Blink The Brightest' vies with Missy Higgins as one of the best albums in its crowded genre this year.
*****
Review by David Randall
Naked
© 2005 Tracy Bonham/Zoe Records. All rights reserved.