TOMMY BOLIN Whips And Roses 1
SPV SPV78582CD (2006)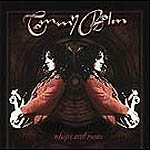 Legendary guitarist Bolin was already renowned before he joined Deep Purple as Ritchie Blackmore's replacement. With much group and session work prior to Purple, Bolin released his Teaser solo album around the same time as he did Purple's Come The Band. His Private Eyes LP was released shortly after the band's split, with other projects planned before his untimely drug related death.
This compilation features previously unreleased studio work, whether outtakes of album tracks or tracks never used at all.
Opening with 'Teaser' we get some sublime guitar work, while 'Fandango' is more of a 6 minute jam with touches of fusion, the sort of thing Jeff Beck was doing so well at the time. The slide guitar in 'Cookoo' is well worth checking out.
Fusion and funk litter the tracks, without distorting the rock guitar, and a studio spontaneity feel comes across too.
While the production is variable, the music is excellent, and a must for the Bolin fan and collector.
****
Review by Joe Geesin