TO-MERA Transcendental
Candlelight Records CANDLE143CD (2006)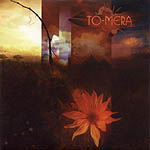 Too often they days the term 'progressive metal' is bandied around among bands who are no more progressive than your average pop band.
It's a welcome relief then, to actually hear a band that are progressive and play progressive music, all on one album and that of a very high standard.
You can count the number of progressive bands with a female singer on one hand. Put To-Mera near the top of any list. Singer Julie Kiss, possesses a fine set of lungs, that sets the tone for an album of progressive tunes, that are daring as they are diverse.
All this of course would not matter, if To-Mera couldn't write a song to save their lives. Of course they can and do it all very well and the eight songs on their debut album, are as technical as they are melodic.
To-Mera know how to pen a tune, yet they also know how to change musical style effortlessly, without sounding indulgent, or too over the top. It's also very refreshing to hear an album with so many things that are different and not the norm. Which to me, is all part of the term, 'progressive'.
Looking for something, fresh, different and extremely good? Then look no further.
*****
Review by Graham Boyle
Blood
© 2006 Candlelight Records. All rights reserved.
---
| | |
| --- | --- |
| | Print this page in printer-friendly format |
| | Tell a friend about this page |