TNT'Give Me A Sign' MTM 068172 (2003)

Another great band returns! This is a five track EP features the classic line-up of vocalist Tony Harnell (last heard singing on the excellent Westworld album last year), guitar wizard Ronni Le Tekro, bass player Morty Black and drummer Diesel Dahl.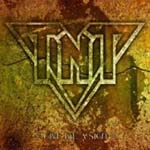 Four tracks are new and there is demo, 'Destiny' from the 'Tell No Tales' album. 'Live Today' is punchy rocker featuring some sterling soloing from Ronni Le Trekro. More great guitar features on 'Give Me A Sign', another quality hard rocker. Both Le Tekro and Harnell are the stars on here, with Harnell in fine vocal scream mode! 'Satellite' is the best song on here for me, with a fast pace, plenty of melody and catchy chorus, similar to Westworld in fact. This has radio airplay potential (if only the damn radio stations would play decent music!).
'Hey Love' slows down the pace a little, entering 70's rock styling in the backing and Harnell again shows just what a great voice he possesses. The demo track, 'Destiny' is good as well but obviously lacks the production of the other tracks contained here.
High quality melodic hard rock - can't wait for the new album that should be one of the best of this year if the tracks on this EP are anything to go by. Crystal clear production as well from produce Tommy Newton (Helloween).
Related>> Album review
Website
****
Review by Jason Ritchie