THOMAS BROMLEY Two Nine Five
Real Records (2006)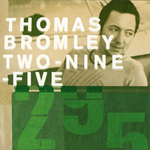 On hearing the current single and opening track Danger Ahead, I concluded this was pretty damn fine – a piece of melodic pop/rock of the highest order - Thomas' vocals having a husky rock hue than melt into falsetto on the chorus and the song sporting some almost Big Country guitar work.
Two-Nine-Five, his debut album (produced by Porl Young - Roxy Music and Nina Hagen) sees Thomas playing guitar, piano and percussion, but I'm afraid it doesn't live up to the promise of the opening track. After the up-tempo opening the album lapses into David Gray / Van The Man territory – white man's soul. And for the main part, mid tempo white man's soul. Mark My Words, for example, is a hardy concealed cover of Signed, Sealed, Delivered.
Now there's nothing wrong with that as a concept - there's plenty of people who love that sort of thing. But Gray is a pretty fine exponent and he's seen his crown slip recently – his popularity usurped by a wave of Brit Pop. I'm sure there's still room in the market place for this sort of material, but the truth is Two–Nine-Five is nothing better than average. Pleasant, but forgettable. Only the track All The Things We Need matches the verve of Danger Ahead.
Yes, the album is nicely played and performed, but there's very little here to make you want to press the repeat button. On the strength of the Danger Ahead single I concluded Thomas Bromley was 'one to watch'. Well, now I've had a closer look, I'm afraid the album doesn't cut mustard.
Singer-songwriters are two a penny at the moment and Thomas is going to have to up his game if he's to break out of the pub/club circuit.
**½
Review by Pete Whalley
Danger Ahead
© 2006 Real Records. All rights reserved.