THOMAS BROMLEY 'Standing Strong/Bye The Way' (CD single) 4 Real Records (2005)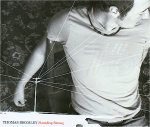 'Standing Strong' was inspired by the Tsunami disaster, and showcases Bromley's plaintive and expressive delivery with his own keyboard and guitar accompaniment.
This track is pleasant enough, but whether it stands out from an already heaving crowd (think Damien Rice, David Gray) is debatable.
The second track on this AA single, 'Bye The Way', is more upbeat and nods to any number of contemporary American bands such as Widespread Panic.
Influenced by classic soul singers like Marvin Gaye at an early age, a Queen gig at Wembley seemed to be the turning point in the young Bromley's road to rock.
The album '295' is due in the autumn and may provide a more worthy signpost to a burgeoning talent.
***
Review by David Randall