THE ZUTONS Tired Of Hangin' Around
Deltasonic (2006)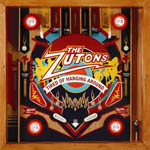 Produced by Stephen Street (The Kaiser Chiefs / The Smiths) and recorded at Townhouse and Olympic Studios towards the end of 2005, Tired Of Hangin' Around is the eagerly awaited follow up to The Zuton's excellent debut Who Killed .… The Zutons.
From the first bars it's clear The Zutons have employed the 'if it ain't broke, don't fix it' principal - the sound is instantly recognisable - Tired Of Hanging Around delivering the trademark vocals, guitar work and hooks used to such good effect on their debut.
Of course, the second album is always tricky - the best of years' worth of material have been plundered for the first album, expectation is unduly high after a critically acclaimed debut and the pressure is on.
But the good news is that Tired Of Hangin' Around is a worthy successor. It doesn't usurp Who Killed … - that would have been asking too much, but it's a fine album that consolidates The Zutons as purveyors of quality pop/rock.
And while perhaps not reaching some of the highs of Who Killed...it is a consistent body of work with not a duffer in sight.
As before, there's a wide range of styles and influences on display - everything from country and folk on Someone Watching Over Me and You've Got A Friend In Me through to glam - Why Won't You Give Me Your Love has T Rex overtones, and Oh Stacey (Look What You've Done) Bowie sax.
But what glues it all together is that distinctive Zutons sound - David McCabe's wonderful songs and vocals, Abi Harding's sax, and Boyan Chowdhury's excellent guitar work. Not forgetting the rhythm section of Sean Payne and Russell Pritchard. And, of course, those characteristic backing vocals.
The test will be how The Zutons develop from here. And a clue is perhaps the final (and best) track on the album I Know I'll Never Leave - a gorgeous bluesy, soulful number. In the meantime, sit back and enjoy the show.
***** Out of this world | **** Pretty damn fine |
*** OK, approach with caution unless you are a fan |
** Instant bargain bin fodder | * Ugly. Just ugly
get ready to rock is a division of hotdigitsnewmedia group
Why should I buy this CD?
Derivative, yet original - an essential companion to Who Killed...The Zutons.
Burn baby burn
Tired Of Hangin' Around, How Does It Feel?, Hello Conscience, I Know I'll Never Leave