THE CRIBS 'The New Fellas' Wichita(2005)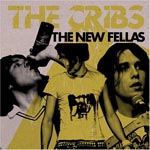 The Cribs are a self confessed hard working band, whilst such bands as 'Razorlight' have record contracts and sold out gigs handed to them over night, The Cribs have slogged the way to where they are today although they are frequently hailed as newcomers-they appeared on the NME New Music Tour twice and supported the Kaiser Chiefs on their sold out UK tour. This leads to the conclusion that the album title 'The New Fellas' is slightly laced with irony.
The album opens with the energy induced single 'Hey Scenesters!' the perfect opening track to the three piece's second indie pop album, it instantly introduces the Cribs ethos and general attitude-cynical lyrics containing hard to face up to home truths.
The track 'Martell' is strong and reflects that the Cribs were kids of the Brit pop era, it provides a track that Damon Albarn would be proud to call his own. Whilst boybands have the mandatory ballad on their albums, indie bands always have the 'take it down a notch' album track filled with lost notions - 'It Was Only Love' fills this space and presents a surprising turn in the album, it is musically lazy yet thought provoking culminating in a rhythmic song that never peaks and sticks to its pace.
The following song sharing the same name as the album displays music and guitars that the Strokes would gladly sample and result in Julian Casablanca to quake in his Converse.
'The New Fellas' confirms the Cribs assent into the wave of bands from the north, it is clear to see that along with the likes of Maximo Park and the Kaiser Chiefs, The Cribs are in a league of their own and 'The New Fellas' has slowly creeped onto my list of albums I can't get enough of, with each song providing a favourite.
****
Review by Charlie Antczak