TARA BLAISE 'Dancing On Tables Barefoot'
Spokes Records (2005)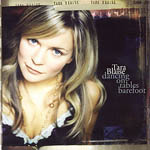 I danced on a table for the first time in my life while on holiday in Crete this year, but that's another story. And I wasn't barefoot - which was just as well considering there was lighter fuel dancing a merry dance with us. Not a pretty sight.
Anyway, to a more shapely table dancer – Tara Blaise. 'Discovered' and offered a deal by The Corrs manager John Hughes, Tara has actually been around the music scene for some time. She joined her first band Les Legumes at 16 before forming the Wilde Oscars. Her next band Igloo released a couple of singles in her native Ireland and her last band KayDee released an album for EMI Ireland. But despite being Irish and The Corrs link, this is not an 'Irish' album – not a fiddle, whistle, or jig in sight.
Jonathan Ross has compared Tara to Kate Bush. For the most part, I don't see it. Andrea Corr or Natalie Imbruglia would be more relevant comparisons. Tara has none of the 'shriek' of Kate Bush and has a sweeter, softer breathy delivery. And her songs are of a more gentle construction.
Dances On Tables Barefoot was conceived after Tara contributed to Hughes own solo record Wild Ocean (14th Floor Records). Their song writing partnership developed from there, all songs being co-written with Tara providing all lyrics. It was produced by Olle Romo (Eurythmics, Bryan Adams, Shania Twain, and The Corrs).
The pedigree is there for all to hear. The album opens with The Three Degrees – uptempo drums, piano and acoustic, breathy vocals with a catchy Avril Lavigne-like chorus. Some nice lead guitar work to (and throughout the rest of the album). Superman In A Bottle has a Corrs structured chorus. Fool For Love an aching string ballad telling of love lost. And yes, there are Kate Bush (The Man With The Child In His Eyes) inflections in the vocals.
21 Years and Radio Star are supremely catchy summer pop numbers. Paperback Cliché is infectious. Unbearable Lightness is almost choral in its beauty. There are no runts here at all – not a duffer in sight.
Dances On Tables Barefoot is difficult to pigeonhole. It's an album you want to keep coming back to. Quality adult pop that will appeal to those of a Corrs / Dido persuasion. Perfect in fact, for your average BBC Radio 2 listener.
****
Review by Pete Whalley