STEVE TILSTON 'Such And Such'
(Market Square MSMCD124)(2003)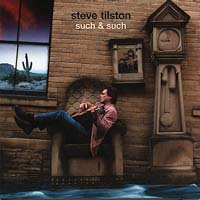 If you listen to this album for the first time, perhaps the strongest point of reference you can make is the great Richard Thompson. You may be surprised that Steve Tilston's pedigree goes back almost as long, a much-respected folk singer-songwriter guitarist who has also been compared to that other folk master, Nick Drake, and who supplied songs for Fairport Convention. He recorded for the legendary Transatlantic label in the seventies.
Steve's latest album on Peter Muir's eclectic Market Square label is an absolute gem. It takes the best of Tilston's songwriting skills and melds his talent for storytelling with a superb contemporary acoustic band that includes ex-Fairporter/Tull Maart Alcock and ace saxophonist Andy Sheppard. The whole offering is beautifully measured and performed. It conveys the mood of a group of excellent musicians just sitting down after supper and having a blow. Steve Tilston has a distinctive, commanding, but not-too-folky vocal delivery and his acoustic playing is exemplary.
The opening track 'Rare Thing' has an exquisite orchestral arrangement and catchy chorus, and there are some real highlights elsewhere. Take a listen, for example, to the superb instrumental 'Totterdown' with its jazzy folk-fusion samba vibe, or 'Mirror Dance' with its story of fading looks in the advancing years. Tilston always wraps things up with some precision turn of phrase: 'The Sniper's Tale' is just incredible. There's also a couple of great "road" tunes , the bluesy 'Need A Cup Of Coffee" (with Anna Ryder's subtle keyboard interjections acting as counterpoint to Steve's driving guitar and old mate Keith Warmington's deft harp) and "Rolling Down This Roman Road" (infectious or what?).
I can't help thinking that this is the album Steve Tilston should have made ten years ago. It may yet get him wider and much-deserved acclaim, maybe via exposure on BBC Radio 2? Indeed, this CD has the immediate appeal of the best Al Stewart can muster, another folkie-to-rocker with whom Tilston shares some common ground. This is an album to slip on for your guests during a civilised dinner party and watch for subtle acknowledgment. Check out, too, his other offering on Market Square, a reissue of 1987's 'Life By Misadventure' bolstered by his epic instrumental 'Rhapsody'.
Mirror Dance
© 2003 Steve Tilston/Market Square. All rights reserved.
*****
Review by David Randall

Related>> Gig Review
Related>> Interview
Related>> Special feature