SCAR SYMMETRY 'Symmetric In Design'
Metal Blade(2005)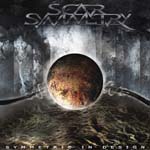 I will not try to deny the fact that I have not been extremely pleased by the progress of the Swedish Melodic Death Metal scene during the last couple of years.
Apart from Dark Tranquillity who are constantly outdoing themselves with every new release, and who, in my humble opinion, are the rightful leaders of the scene, the rest of the Swedish melodic "giants" like In Flames and Soilwork are far away from releasing an album capable of bringing goosebumps to my body.
Just as I've started loosing all hope that I will once again hear something exciting from a band that belong to this specific genre, I came across a promo of a band called Scar Symmetry.
There are quite a few things about them that will definitely impress most of the people I know, but before mentioning anything about their music, I will say that they are one of the few bands that been together for a year, and that have managed to sign a record contract with a major record label such as Metal Blade. Is that humanly possible?
Well, the truth is that the five members of Scar Symmetry are not entirely new to the music business. Jonas Kjellgren (guitars) was the axeman of Carnal Forge, Henrik Ohlsson was the man behind the drumkit of Theory in Practice.
As for the rest, Per Nilsson played the guitars for Altered Aeon, Kenneth Seil made his debut on the bass, and last but certainly not least the band's frontman Christian Alvestam who was previously handling similar duties for Unmoored.
Ok, so these five musicians are definitely not inexperienced, but what was the actual reason that convinced Metal Blade to invest in them?
It's all about the music really. One would think that it would be very difficult for any new band to compete with Soilwork and In Flames, but the members of Scar Symmetry were smart enough to pay enough attention to detail. Jonas Kjellgren (guitars) spent more time writing melodic guitar parts and flamboyant guitar solos rather than trying to base his music on catchy guitar riffs as Soilwork did on their last two albums.
Then you have Christian Alvestam who contributes both clean and brutal vocals to all twelve compositions of the album. I don't think that there's anything particularly exciting about his Death Metal howls, but when it comes to clean and melodic vocal lines he is one of the best that you can find in this genre. That alone resulted in making all twelve compositions equally attractive to my ears.
I would also like to point out the importance of having a very good production - something that was achieved at the Black Lounge studios in Sweden. The strong but at the same time clean sound gave plenty of space to all those beautiful solos that you can find in songs like "2012-The Demise of the 5th Sun", "Dominion"(nice keyboard melodies and Crematory-influenced vocals), "Reborn" and "Veil of Illusions".
Well my friends, "Symmetric in Design" was indeed a very interesting surprise - an album equally heavy and intense as the last releases form Soilwork and In Flames, but more melodic and traditional in it's concept and presentation. It is indeed a very good debut album, but I believe (and hope) that this is only the beginning for these five musicians…I somehow know that they can do much better than this in the future.