SACRED HEART 'A New Dawn ' (2003)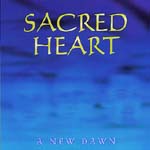 A UK melodic rock band - a rare thing - comprised of Paul Stead (vocals/guitars), Mark Stephenson (guitars/vocals), Claudio Cafolla (drums/vocals) and Leigh Westbrook (bass/vocals).
From the start its best noted and the band's accompanying notes admit this, that the production isn't a 'big budget'. It's only the drums for me that are too low down in the mix. Six tracks in all (one is 'hidden'!) and in 'Lost' the band could have had big success back in the late 80's hard rock boom. It starts with staccato guitar riff and features harmonies on the chorus. It's just one of those songs that you end humming all day, it really is that good.
'Carry On' is a mid-tempo rocker and again not a bad little tune, with 'You're The One' taking the tone down to a slow ballad. The hidden track is 'Fall', which for me isn't the best song on here.
Sound wise they are not dissimilar to fellow UK rockers Lost Weekend and Sacred Heart also tip a nod to Def Leppard (in the layered harmonies) and Magnum's late 80's output. For an unsigned band they really are very good and have a killer tune in 'Lost'. More please!
Website
****
Review by Jason Ritchie
Crazy World
© 2004 Sacred Heart. All rights reserved.