Birthday celebration tops Rush In Rio...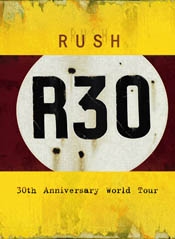 You may have thought that it would be difficult to top Rush's first concert DVD, released in 2003, 'Rush In Rio'. Wrong.
R30 captures the band on the European leg of their celebratory 30th anniversary tour in 2004.
What sets this package apart is quality filming, a second DVD of useful extras, and - with the Deluxe Edition - two audio CDs from the concert.
Add in (to the Deluxe version) some nice little touches like a backstage pass and a couple of guitar picks, and Rush fans or loved ones are going to be pretty skint this Christmas.
The first DVD is the entire concert in Frankfurt on September 24 2004, and whilst it naturally includes the landmark Rush tunes, the band also feature some of the music that inspired them. So we get versions of 'The Seeker' (The Who), an acoustic 'Heart Of Soul' (Yardbirds) and a very fine delivery of 'Crossroads' (Cream).
On the second DVD there is rare footage from 1975's Church Session Video to the Tsunami relief concert in 2005 with interviews from all periods of the band's history.
Duplication with the 'Rio' set is inevitable, but as the Rio gig was the last date of the 'Vapor Trails' tour there was an obvious emphasis on that album. Only 'Earthshine' from 'Trails' is featured on 'R30'. Some fans criticised Rio's audio and visual quality: if that bothered you then 'R30' makes full amends.
This is definitely one for the fans, although it really sets the standard in terms of rock DVD packaging and is the best example of how to stymie the bootleggers. Give the fans a great souvenir, and pack in the extras. And, moreover, make it sufficiently different to its predecessor. Rush have it all covered.
****½
Review by David Randall

Related>> DVD review (Rush In Rio)
Related>> DVD review (Replay)
Related>> Track listing and further information