Battered Strat and interesting shirts...one of the finest white bluesmen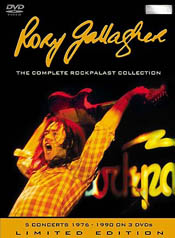 When I first hooked up to satellite TV almost two decades ago I received the German channel WDR. Occasionally when channel flicking I would come across such rock delights as 'Rockpalast' and 'Beat Club' and, if I was lucky, something decent like Rory Gallagher.
What this superb three DVD set does is bring together a variety of late-seventies/eighties performances from German TV, otherwise unavailable in complete form, and released in the year that marked the 10th anniversary of the Irish guitarist's sad demise.
A DVD retrospective was long overdue, we've had the BBC sessions set, various remasters, the box (2001's 'Let's Go To Work' )and a definitive best of. There's also been the release of an all-acoustic retrospective.
As those lucky enough to see him live will testify, Gallagher was essentially a live player, a guy who seemingly shunned the trappings of music fame to tread the boards and connect with his fans for whom he could no wrong. There was, therefore, a real honesty in Gallagher's approach and a gritty authenticity in his playing.
Gallagher trawled the traditional blues to rock catalogue, refashioning that music and making it his own. The trademark battered Strat and, er, distinctive choice of shirt said it all really. And both crop up on this splendid collection which takes in the years 1979-1990.
Each concert has to be enjoyed in its own right and it would be onerous to recount the inevitable duplication between sets but, amazingly, there ain't much of that. What you get is the core Gallagher set-list (including classics from the earlier albums such as 'Messin' With The Kid' and 'Tattoo'd Lady' ) and material that reflects the timing so Cologne from 1976 majors inevitably on 'Calling Card', Loreley (1982) on 'Jinx' and Cologne (1990) on 'Fresh Evidence'. Rory made television history as the first ever artist to appear on Rockpalast, transmitted live to some fifteen countries with an estimated audience of 50 million.
The film quality, as you might expect, differs from gig to gig. These concerts are shown in broadcast form, and it appears one or two of the five shows might have been pulled from first or second generation copies. Naturally, the best quality comes from the 1990 Cologne gig when Gallagher is joined late in the set by Jack Bruce.
In his heyday, in spite of a prolific solo album output, Gallagher did appear on a number of sessions (including Muddy Water, Jerry Lee Lewis) and the Bruce collaboration shows that he could easily hold his own, more especially when Bruce indicates to Rory that the final track (a great version of 'Politician') is in 'D' suggesting a lack of rehearsal and a true spontaneity.
This DVD set also includes some of the bonus jam sessions not originally broadcast, from Wiesbaden (1979) when he is joined by Frankie Miller, and Loreley.
It could be argued that this collection covers later-period and therefore not prime-time Gallagher: for many, Gallagher's finest period was pre-mid-seventies and the album of the Irish Tour '74 (now available on both CD and DVD) is often cited as his best work.
There was nothing intrinsically wrong with the later Gallagher albums, and it is more to do with the fact that he wrestled against the prevailing musical climate. Interestingly there was an album hiatus between 1982's 'Jinx' and 1987's 'Defender'.
It is when Gallagher veers from his core blues-rock base that things get interesting although, for some, the later albums had too much of a jazzy blues inflection and, indeed, at Loreley he had two saxophonists in tow. But perhaps we should remember that Rory was also an accomplished sax player too and featured it on his early studio albums.
'Shadow Play' (DVD2,3) from 1976's 'Photo Finish' album was also a single and showed that he could pen a catchy R&B tune, a few years before Dire Straits took that vibe and found greater success.
'Philby' (on DVD2) is another fine example of an interesting diversion from core repertoire, a little more contemporary and with more input from keyboard player John Cooke.
You can't help pondering where Gallagher would have headed musically in the Millennium. In 1991 he missed out on an appearance in the film 'The Commitments' which may have raised his profile whilst there was talk of a more simplistic approach to touring, perhaps acoustic.
By way of illustration of what might have been, the first half-dozen tracks on the first studio concert (DVD 1) are acoustic. This in itself is a must-have for fans as normally he would only feature a handful of acoustic tracks live as an interlude.
The sheer novelty of 5 Gallagher gigs back to back is going to appeal primarily to the rabid fan. Wienerworld have done well to package these historic peformances together and completists should note that this is a Limited Edition. This propensity of German gigs is a reflection of Gallagher's popularity on the German blues and continental festival circuit and that is plainly evident from the crowd reaction and chants of 'Rory', 'Rory'.
From all accounts Rory Gallagher was a nice guy who for much of his later career battled to get his album rights back as much as battling with ill-health.
'The Complete Rockpalast Collection' is an essential visual memorial to a widely respected, loved, and much-missed guitar hero.
*****
Review by David Randall