ROE SHAM BO 'Serotonin ' Bad Trip Records (2005)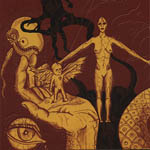 If one thing intrigues about this album, it's the fact the band can't have seen 80 or so summers between them, maybe less.
Roe Sham Bo display a maturity well beyond their tender years, the other surprise is the sheer quality of songwriting on offer.
This album was started back in April 2003 and the band have since gone through the usual pain of record label frustration so that now, a couple of years on, they are doing their own thing.
Again, the over-pub-room studio seems to have worked its wonders for the band although, in reality, a big-name producer and production job would simply shift 'Serotonin' into the corporate rock stratosphere.
The band's reference points seem to be quality-controlled classic rock. There's nothing on this album that outstays its welcome and there is a subtle variety that really impresses.
The opener, the driving 'Rupert Lee', is actually not that representative of the album as a whole, but it shows that Roe Sham Bo know how to pen a rocker. But this is distinctly average fare compared to the following opus 'Baby In The Bathroom' which better displays their songwriting talent.
RSB can be a rival to Rooster if they want to be, classic verse-chorus-verse friendly even if they don't have that band's teeny-bop friendly looks.
But when they slow the pace down, they show a great sensitivity sometimes lacking from their upcoming competitors and better-known contemporaries. After those raucous openers, 'Hold My Hand' is a mid-paced gem, a Nirvana-tinged feel to the vocals and a vibe that recalls the best American psychedelic acoustic rock of the late sixties. A perfect summer anthem.
Elsewhere 'Bad Trip Central', 'Penny Real' and 'Fool Tonight' demonstrate the band's knack for appealing, acoustic-driven, slightly mournful ditties.
The acoustic vibe continues on 'This Don't Feel Right' which breaks into a grungey workout and could be an outtake from Audioslave's 'Out Of Exile' sessions. 'Stone Cold' would give the Gallagher twins a run for their spondulicks, Lee Barker's guitar solo is particularly impressive and keeps up the classic album credentials.
It is the slower, moody stuff, the light and shade, that marks out Roe Sham Bo as something quite special but, overall, 'Serotonin' is a splendid debut.
****
Review by David Randall



Baby In The Bathroom
© 2005 Bad Trip Records. All rights reserved.