ROBIN BECK 'Do You Miss Me' Frontiers Records (2005)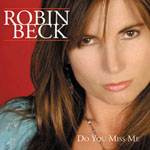 I'm sure you all remember that Coca Cola song "First Time", but do you all remember that its singer was none other than Robin Beck. That was 1989 and the song provided Robin with a massive hit all over the world. Now its 2005 and she's back with a new album. In between – well a few solo albums, getting married to James Christian (of House of Lords fame) and starting a family.
"Do You Miss Me" is an appropriate title after all these years – don't ask me what happened to the question mark though!! After listening to the album a few times the answer has to be "Yes Robin – we've missed you". The album kicks off with title track and is one of the stronger tracks. It brought back fond memories of listening to Heart in the late eighties. "Your Love Is Tough" and "What About Us" both sound familiar but that's no bad thing in this case. Sandwiched in between is the big power ballad "The Safest Place (I Wanna Be Strong)".
Now to the niggles – the album definitely suffers a lull around tracks 7, 8 and 9 and never really recovers. I'm sure I also caught a couple of awful vocorder effects on Robin's voice on a couple of tracks – off-putting!! Hubby James and the wonderful Lisa Dalbello (how about another album Lisa?) supply background vocals on the album. Overall – a welcome return to a genre infested with mediocre Scandinavian AOR bands.
***½
Review by Phil Berisford
***** Out of this world | **** Pretty damn fine |
*** OK, approach with caution unless you are a fan |
** Instant bargain bin fodder | * Ugly. Just ugly