Pink Floyd fingers on the pulse...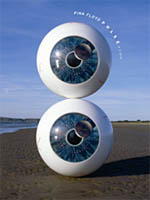 You've seen the VHS video, you've heard the double CD, now the much-anticipated DVD release of Pulse - the legendary 1994 Earls Court gig from Floyd's Division Bell tour featuring the first ever audiovisual performance of Dark Side Of The Moon.
I could wax lyrical about the restored and re-edited concert footage, and about the new 5.1 surround mix, but all you need to know is that this is an absolutely essential purchase. Quite simply the one and only must-have DVD release of the year.
For your money you get the full concert, which runs to a 145 minutes, plus another hour and a half of 'extras'. To be honest the extras are nice to have, but nothing that will merit much more than a once off exploration of the extensive disc menus – screen films used in the 1970's concerts together with those featured on the 1994 tour set backdrop, behind the scenes footage, some naff bootleg videos which serve to highlight the quality of the official release, tour dates, stage plans, a photo gallery, cover art and more. And as you'd expect, it's all beautifully packaged and presented.
But what makes this release required viewing is the wonderfully captured live set. It's a sumptuous audio and visual extravaganza. Shine On You Crazy Diamond, Another Brick In The Wall (Part 2), High Hopes and Leaning To Fly are some of the classic tracks on disc 1, while on disc 2 Dark Side is delivered in it's glorious entirety together with encores of Wish You Were Here, Comfortably Numb and Run Like Hell. David Gilmour, Nick Mason, Rick Wright and a fantastic supporting cast of players (Dick Parry, Sam Brown, Guy Pratt, Jon Carin, Claudia Fontaine, Durga McBroom, Tim Renwick and Gary Wallis) put on one hell of a show.
The Pink Floyd stage shows are legendary and with the help of stunning Pulse DVD graphics by long-time collaborator Storm Thorgerson this DVD looks as good as it sounds. It does a remarkable job of bringing the Pink Floyd live experience to your living room. As a visual spectacle, it's probably never been bettered. And certainly never as well captured on film. With a 42" plasma, a decent surround sound system and a couple of beers, this is a DVD you are going to want to watch time, after time, after time. Magnificent.
*****
Review by Pete Whalley

Related>> Pulse preview
Related>> Pulse Q&A