PHILIP BARDOWELL In The Cut Frontiers Records (2005)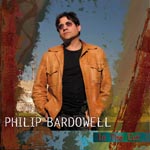 Philip Bardowell was the vocalist with Unruly Child and for this solo album he's joined by Radioactive's Tommy Denander (on guitars, production, bass, keys) and drummer Daniel Flores (Mind's Eye). There are some big name songwriters on board as well like Stan Bush (whose 'Heart Of A Hero' is a track you could easily imagine on any 80's film soundtrack), Jim Peterik and Mark Spiro.
'I Gotta Believe' defines a melodic rock ballad- emotive vocals, OTT guitar soloing and a hook filled chorus – superb stuff. 'It's A Long Road' is a classic mid paced rock song, whilst 'One Day In January' sees Bardowell in fine vocal form again.
One slight downside is the lack of a real anthemic rocker, the nearest is 'In The Cut'.
Unruly Child fans won't be disappointed neither will fans of classic melodic rock like Foreigner, Survivor and Signal.
***½
Review by Jason Ritchie